While the guys at New York City's Peoples Improv Theater (PIT) continue to improvise entire third season episodes of Twin Peaks (next show: June 24, 2012 at 8 PM), the Upright Citizens Brigade in Manhattans's East Village is holding an improvised executive meeting in which "VPs of Development" will discuss whether or not to reboot the beloved television series. Several Twin Peaks characters are expected to stop by and pitch their ideas for a third season.
Executive Decision: Twin Peaks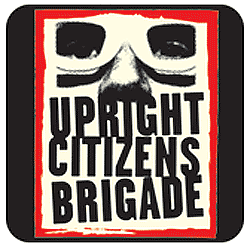 For fans of great TV shows, the end of a beloved series is the beginning of a painful mourning period. Knowing you'll never see those characters again, watch them overcome new obstacles or learn what happened with unresolved plot points is hard to accept. Thankfully, a team of TV executives have heard your cries and are willing to explore these lost treasures one series at a time. They will tie up loose ends, catch up with the characters and most importantly, provide catharsis so the healing process can finally begin.
Date: Saturday June 23, 7PM.
Tickets: $5. Make a reservation for the improv show here.
Performers: Connor Ratliff, Kerry McGuire, Dan Hodapp, Zach Broussard, Dan McInerney, James Coker, and others…
Random: Open to the public, there will be limited refreshments, no parking validation.
Venue:  Upright Citizens Brigade (UCB) Theatre East Village, 153 East 3rd St., New York, NY 10009.