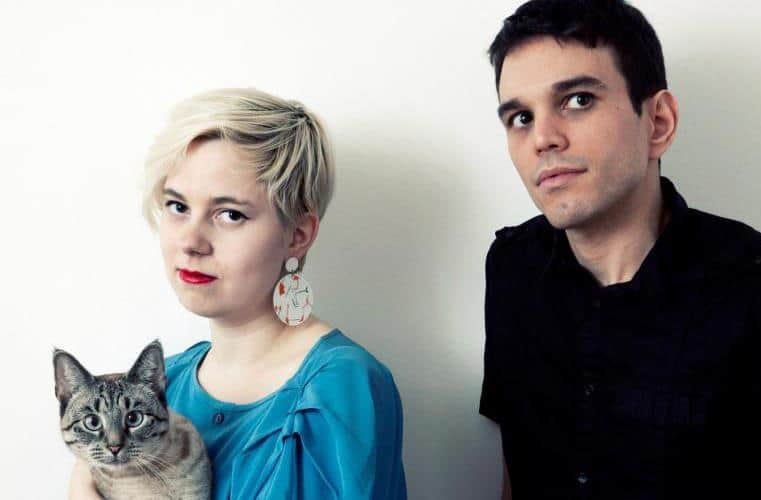 Silent Drape Runners, the Brooklyn-based experimental pop duo consisting of singer Sophie Weiner and DJ Russ Marshalek , is curating a night of Lynchian music at 92YTribeca in New York City on May 5, 2012.
The night will start with the very project that brought them into existence, a live re-sountracking of the Twin Peaks pilot.
Whether you're a first-time visitor to "Twin Peaks" or a longtime resident, you'll experience something entirely new as Brooklyn-based "emotional electronic" duo Silent Drape Runners recast the iconic first episode of David Lynch's moody masterpiece with an entirely new soundtrack. Songs you know by heart mash up against things you've never heard before while original, unique compositions and remixes done specifically for this acclaimed performance tell the story of the first hours after Laura Palmer's death.
Afterwards, SDP in conjunction with NY Conversation and curator Tom Hawking, present It Is Happening Again, "a hand-picked collection of bands inspired by the moods, themes, music, ideas and very self of David Lynch, including a full-band set by Silent Drape Runners themselves".
Religious to Damn is the brainchild of Afghan-American vocalist and songwriter Zohra Atash. Assisted by longtime production collaborator Joshua Strawn (also of experimental metal outfit Vaura), the band has evolved from a doom folk collective into an atmospheric pop act. Their debut album, Glass Prayer, showcased a broad range of sounds–mourning cello, smoldering harmonium and tribal rhythms–while their latest single, the sensually danceable 'Lovely Day,' finds them exploring the warmer side of cold wave, and the understated anthemic possibilities of minimal electronics.
Grasshopper is Jesse DeRosa and Josh Millrod's answer to "jazz infused" experimental electronic music. Using trumpets, EVI, and a modest amount of electronics the duo warp classical and traditional instrument sound sources into otherworldly drones and peaking waves of pulsating electric mire.
Silent Drape Runners are the Das Racist of new age music. Two people, multiple kaoss pads, Lynch-influenced pop. Their debut single "NEW VIBES" was released in January.
Niabi creates a kind of forest-dwelling dreampop that could share space with M83 and Bat for Lashes.
Date: Sat, May 5, 2012, 9 pm
Tickets: $15 ($20 at the door) via 92YTribeca.
Venue: 92YTribeca MAINSTAGE, 200 Hudson Street, New York, NY.
Here's a video of SDP performing "New Vibes" live last week.