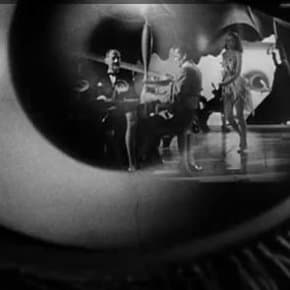 Today is World Sleep Day, an annual event aimed to celebrate the benefits of good and healthy sleep, to draw society's attention to the burden of sleep problems and to promote sleep disorder prevention and management. Isn't that just the best occasion to show you 15 of the most trippy dream sequences in film and television history?
1. Let's start with our all-time favorite, Cooper's dream from the 3rd episode of David Lynch and Mark Frost's Twin Peaks (1990). A dream that got millions of people talking.
2. Spellbound (1945) by the master of suspence, Alfred Hitchock, features a dream designed by the master of surrealism, Salvador Dali.
3. Believe it or not, the dream in Ray Dennis Steckler's The Incredibly Strange Creatures Who Stopped Living and Became Mixed-Up Zombies (1964) is even weirder than the movie title.
4. Of all the dream sequences in Tarsem Singh's The Cell (2000), this is the one that will haunt you in your dreams.
5. Michel Gondry eats, drinks and sleeps surrealism. A scene from The Science of Sleep (2006).
6. Not so much a dream as a trip gone bad, The Big Lebowski's (1998) "Gutterballs" sequence drew a lot of inspiration from the Dali-designed Spellbound dream.
https://www.youtube.com/watch?v=cz2ET5K6zY0
7. The Lady In The Radiator singing "In Heaven" in David Lynch's Eraserhead (1977) is a nightmare I would rather not have.
https://www.youtube.com/watch?v=4BHM2J9ldnQ&feature=related
8. I don't think anyone would disagree when I say that Martin Scorsese's dream sequence in Shutter Island (2010) is pure poetry.
https://www.youtube.com/watch?v=V0eG0O9qNB4
9. Blade Runner (1982) by Ridley Scott has a unicorn dream! 'Nuff said!
https://www.youtube.com/watch?v=xhDDybv8_Ro
10. The memorable opening dream sequence in 8½ by Federico Fellini was a source of inspiration for many artists and directors, including the one who did R.E.M.'s Everybody Hurts video.
11. Disturbing clowns haunt Pee-wee in Pee-wee's Big Adventure by Tim Burton.
12. Can you believe my teacher made me watch Dumbo (1941) when I was only 7? It has this scene in it.
https://www.youtube.com/watch?v=RJv2Mugm2RI
13. It's hard to believe Henri-Georges Clouzot's La Prisonnière (1968) was made decades before MTV's Party Zone.
14. Roger Vadim's Blood And Dreams (1960) has an incredible dream sequence… with a touch of red.
https://www.youtube.com/watch?v=fOvO7aG-65g
15. And Christopher Nolan shows us in Inception (2010) how everyone would like their dreams to be.
BONUS: The dwarf in Living in Oblivion (1995), played by Peter Dinklage, objecting to appear in a dream sequence is an undeniable nod to Twin Peaks.
Is that the only way you can make this a dream? Put a dwarf in it? Have you ever had a dream with a dwarf in it? Do you know anyone who's had a dream with a dwarf in it? No!

I don't even have dreams with dwarves in them.

The only place I've seen dwarves in dreams is in stupid movies like this! "Oh, make it weird. Put a dwarf in it!" Everyone will go, "Whoa, whoa, whoa! It must be a f*#kin' dream! There's a f*#kin' dwarf in it!"

Well, I'm sick of it! You can take this dream sequence and shove it up your *#s!
https://www.youtube.com/watch?v=4je71Tz_9IE
BONUS #2: Nobody will ever know which half of Lynch's Mulholland Drive (2001) is the dream sequence.