The beloved Ray Wise recently reaffirmed that David Lynch is planning a Twin Peaks revival on TV, Welcome to Twin Peaks learned from Nick Sala who last summer worked as a production assistant on an independent film called Guardian Angel, starring Ray Wise as an attorney.
"Had a chance in between camera set ups to strike up a conversation with him." Nick Sala writes. Because Ray Wise is one of his all time heroes, Nick broke the usual chain of protocol regarding talking to talent. Out of courtesy, he didn't bring up Twin Peaks right away and instead mentioned Psych. To great effect, because it didn't take long for Ray to talk about that show's Twin Peaks homage, which consequently lead to the actor recounting his meeting with David Lynch a few months ago in Newport Beach, California. Ray Wise said David Lynch told him he was "over making movies" and instead wanted to "focus on his music and TV".
"That's when [Ray Wise] dropped the bomb and said that David Lynch is actively pursuing bringing Twin Peaks back to audiences in the near future."
Unfortunately, cameras were ready to roll again by then —and did not roll yet during the conversation— so that was the abrupt end of their interesting chat.
Earlier this year, we learned that David Lynch told Ray Wise there's always a possibility to bring back Leland Palmer; a highly entertaining anecdote which could have just as easily been a joke. But Nick assured me that Ray was definitely not joking about this. "The first assistant director and steadicam operator were there too and we collectively got wide eyes and big smiles when he said it."
Let's not forget that Jennifer Lynch, on the contrary, publicly announced that her dad had no intention to revisit Twin Peaks. But as the saying goes, where there's smoke… there's BOB! Right?
And if not, there's always the upcoming Twin Peaks Blu-ray with hopefully tons of unseen footage.
UPDATE (9/19/2013): Jennifer Lynch via Twitter has let us know that nothing has changed and she heard nothing about a Twin Peaks revival.
@thewriter23 @mfrost11 @ThatsOurWaldo not true in my world.

— JEN LYNCH (@thatjenlynch) September 19, 2013
The Guardian Angel film crew doing the Leland Palmer shuffle together with Ray Wise.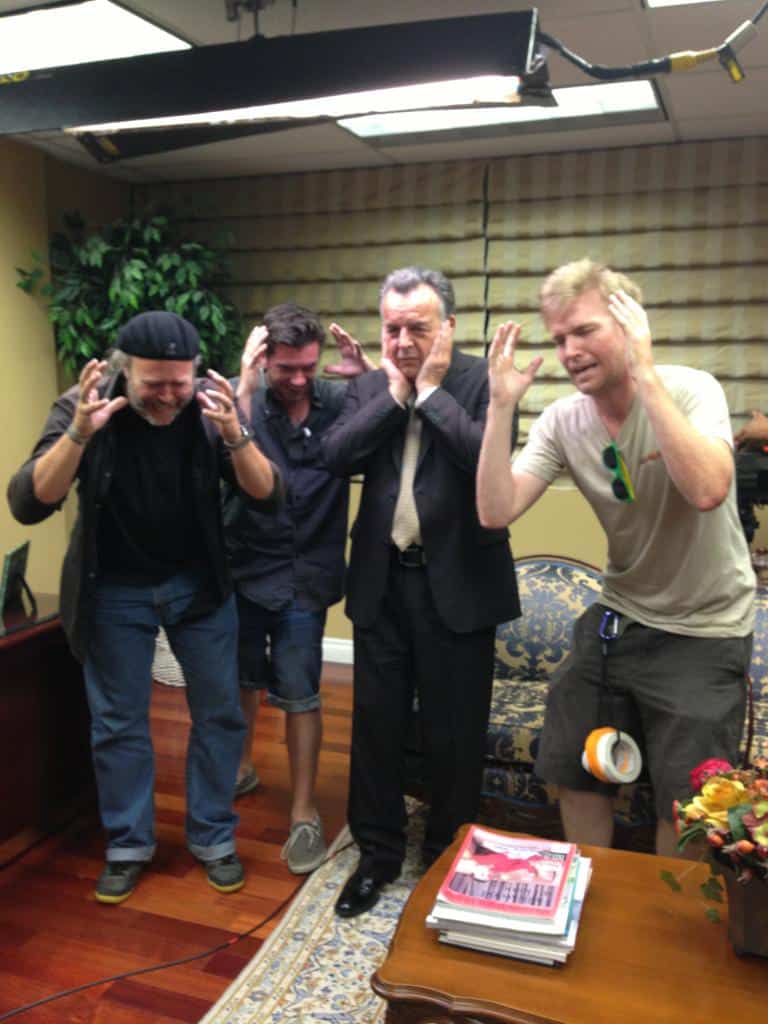 Fell a victim!
Guardian Angel is written and directed by Vahik Pirhamzei. The film will be released in the US on December 6 2013.