Uh-oh. Just when you thought a continuation of Twin Peaks was officially out of the question, it's time to spin the rumor mill again.
At the Orange County Museum of Modern Arts' annual "Art of Dining" gala on May 17 2013, David Lynch was honored for his important impact on the art world. Twin Peaks cast members Mädchen Amick and Lara Flynn Boyle attended the gala, and Ray Wise sat down with the director for several hours talking about "everything under the sun". Including, yes, the possibility of a sequel to Twin Peaks. Here are David Lynch's words on the topic, as paraphrased by Ray Wise:
"Well, Ray, you know, the town is still there. And I suppose it's possible that we could revisit it. Of course, you're already dead (…) but we could maybe work around that."—David Lynch.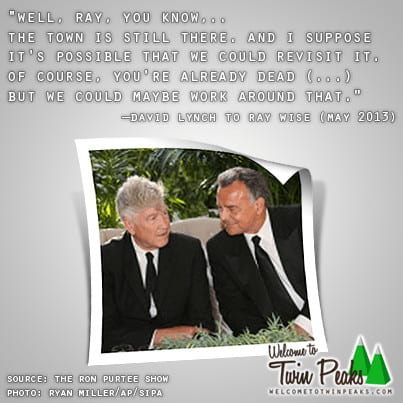 Ray Wise shared a similar quote at USC's Twin Peaks Retrospective early May ("You know, Ray, the town is still there. But YOU are not of course.") without the workaround bit. He might have added it to the anecdote for entertainment value, but we all know David Lynch is not averse to bringing back a dead character. After all, he did have an idea for Sheryl Lee to return to Twin Peaks for a third time. As a redhead, by the way.
Here's the entire interview on The Ron Purtee Show. Skip to 8:00 for Ray Wise's David Lynch impression:
A few photos from the OCMA gala, by Ryan Miller for Capture Imaging via C Social Front:
David Lynch & Ray Wise. At @OCMA's annual gala on May 17, 2013 (via http://t.co/YHq0O83hbk) #twinpeaks pic.twitter.com/OGOuoX7rh2

— Welcome to Twin Peaks (@ThatsOurWaldo) May 29, 2013
#twinpeaks reunion: David Lynch, Lara Flynn Boyle & Ray Wise. At @OCMA's annual gala (via http://t.co/YHq0O83hbk). pic.twitter.com/y3nWHAaASd

— Welcome to Twin Peaks (@ThatsOurWaldo) May 29, 2013
Mädchen Amick & David Lynch. At @OCMA's annual gala (via http://t.co/YHq0O83hbk) #twinpeaks #MYSOCKSAREONFIRE pic.twitter.com/VV5hZkgDLF

— Welcome to Twin Peaks (@ThatsOurWaldo) May 29, 2013