A few days before the official release of Twin Peaks: The Entire Mystery, CBS Home Entertainment presented a panel about the Blu-ray box set on Saturday, July 26th at San Diego Comic-Con 2014.
Go behind the scenes of the unprecedented collection of the groundbreaking cult phenomenon from David Lynch and Mark Frost, Twin Peaks-The Entire Mystery. Join actress Kimmy Robertson ("Lucy Moran"), Blu-ray producer Charles de Lauzirika, Blu-ray co-producer Brian Kursar, and restoration and remastering executive project managers David Grant and Ryan Adams. Get an advance look at not only the staggering results of the high-definition upgrade of both the series and feature film, but also an exclusive sneak peek at the Blu-ray's massive array of bonus features, including the "holy grail" of Twin Peaks fandom, The Missing Pieces, the long-awaited deleted and extended scenes from Twin Peaks: Fire Walk With Me, directed and edited by David Lynch himself! Moderated by Robert Meyer Burnett.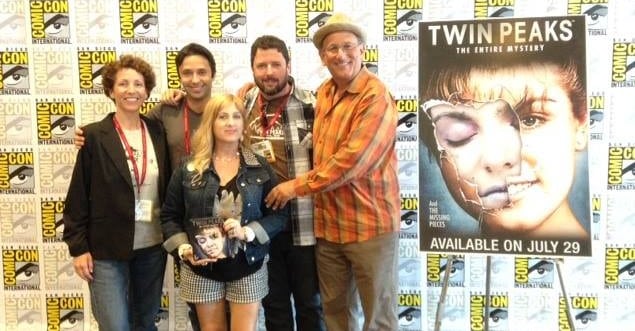 The panel, which you can now watch entirely below (though the audio is less than ideal), offered a lot of compelling background info about how The Entire Mystery set came to be. Some highlights:
How Ken Ross learned from David Lynch how many minutes of deleted scenes were recovered
We had no idea how much was gonna be there. We were told maybe 30 minutes. (…) And then one day David [Lynch] called me up and said: "Hey Ken, what would make you happy in terms of the length and number of deleted scenes? And I said: "What would make me happy is what makes the fans happy, as much as possible. And he said: "Well, what if I told you there were 88 minutes?" And I almost dropped the phone, knowing the significance of it. And he said: "Yeah, 88 minutes. It's all there. But beyond that, these are gonna be handled not like deleted scenes normally are. We're going to handle them as if it's a feature film. We're going to color correct them. We're going to score them. We're going to edit them. (…) Just wait."
—Ken Ross (Executive Vice President of CBS Home Entertainment)
They found the original negatives of the Log Lady intros in, where else, O-RE-GON!
There's a woman in the room named Sabrina [S. Sutherland] who works with David Lynch [and she] found a letter (…) which led to a man in Oregon who apparently was on the crew when the Bravo episodes were filmed, and [he] had the cans of 16mm film negatives [of the Log Lady intros].
—Ken Ross
The Palmer segment of Between Two Worlds was a last minute idea by David Lynch (perhaps inspired by the coinciding excitement among fans?)
And then on the day [of shooting the round table discussion with Ray Wise, Grace Zabriskie and Sheryl Lee], David Lynch throws a little curveball [hours before the shoot]. (…) He wrote a sequence of the Palmers in character.
—Charles de Lauzirika
Ken Ross explains the difficulty of getting the rights to Twin Peaks: Fire Walk with Me
There's a French company named MK2 who owns the film with David, and they already made deals across the world. So what we had to do was talk to different companies all over the world. One company in Italy, one in Spain, one in the UK, one in France, one in Scandinavia, one in Japan. And make from A to Z deals with every single one of them to be able to put the film into our box set. It took time, patience and perseverence.
—Ken Ross
Twin Peaks Blu-Ray Panel At San Diego Comic-Con 2014 (Video)
BONUS: Kimmy Robertson on her deleted scene from The Missing Pieces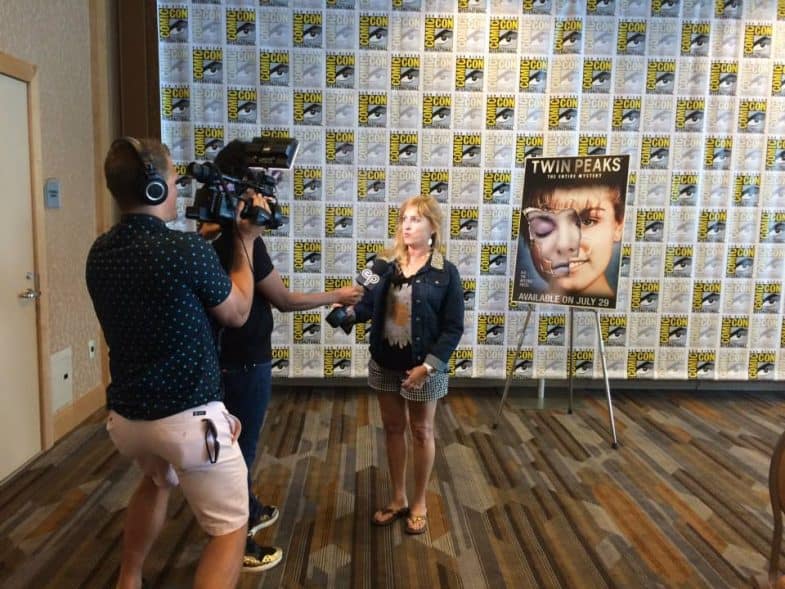 The Twin Peaks Blu-ray is now available worldwide (Amazon).