[This post about David Lynch filming Twin Peaks material has been amended since Friday. Please note the updates. Latest update: according to Ray Wise, the shoot did happen!]
Sande Alessi Casting last evening sent out a casting call through Facebook and Twitter for a Twin Peaks promo shoot directed by David Lynch! The director is apparently looking for a young and busty brunette or redhead with an amazing body to play a waitress in a shoot next week. Although this type of girl sounds more like something the Twin Peaks "breastaurant" chain would be looking for, it is likely a promo video for the upcoming Twin Peaks Blu-ray. Maybe a debuting Double R Diner waitress will be pouring a 25 year older Dale Cooper some damn good coffee? After all, thanks to Twitter we know that Kyle MacLachlan is currently in Los Angeles. Here's the full casting call, which was pulled from Facebook within 12 hours (proof in the screenshot):
TWIN PEAKS PROMO. Directed by David Lynch. Shoots in Los Angeles on Tuesday, January 7, 2014. Prob a 6 hour or less day. Rate is 150/8. You must live in LA to submit. I don't think SAG has jurisdiction on this, so SAG and NON can submit. I have called SAG to double check this and I am awaiting a call back to confirm this though. HOT Caucasian girl – BRUNETTE OR REDHEADS ONLY to play waitress. Age 18-27. MUST have an amazing body. Busty, very period looking face. Please submit two current color photos (one body shot, one face shot), your sizes, union status and contact info to: [email protected]. Subject line should read: TP Promo
If you fit the description and live near L.A., give it a shot! And let me know if you get hired, of course! 🙂
Hat tip to Molly, Daniel and Twin Peaks Archive.
UPDATE (January 4, 2014): Series co-creator Mark Frost says this is nothing but a "strange baseless rumor." Sande Alessi Casting remains tight-lipped and hasn't responded to any e-mail, Facebook comment, message or tweet regarding the matter, even though their name is now all over the blogosphere.
Another strange baseless rumor. http://t.co/ZXirzb7tf7

— Mark Frost (@mfrost11) January 5, 2014
Lastly, it looks like no film permits related to this shoot were issued in L.A. for Tuesday. As always, Welcome to Twin Peaks will keep you posted.
UPDATE #2 (January 10, 2014): Ray Wise, countered Mark Frost's statement above by spilling the beans and telling Fangoria today that the Twin Peaks Blu-ray promo DID happen and that he was part of it!
"Yeah, we [shot the promo for the Blu-ray] two days ago. It's been done. I don't know if I was supposed to leak that to anybody, but yeah, we did it and I'm not at liberty to say what was done. I can say that it's going to be a big surprise."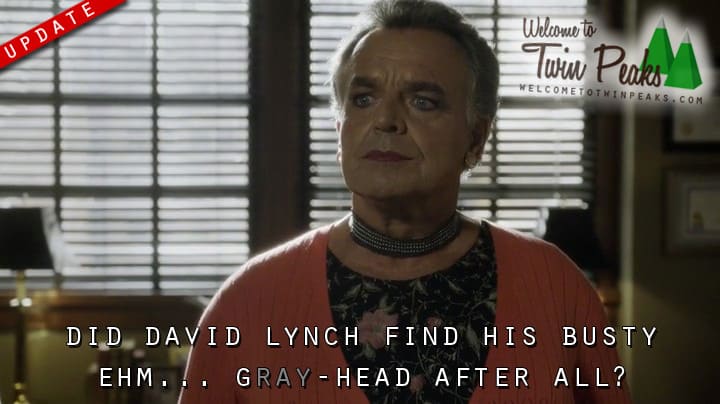 All I can add to this is…
"Sing halleluja, come on, get happy!"
David Lynch is looking for a 2014 Lara Flynn Boyle, Sherilyn Fenn or Mädchen Amick (Photo: Rolling Stone)