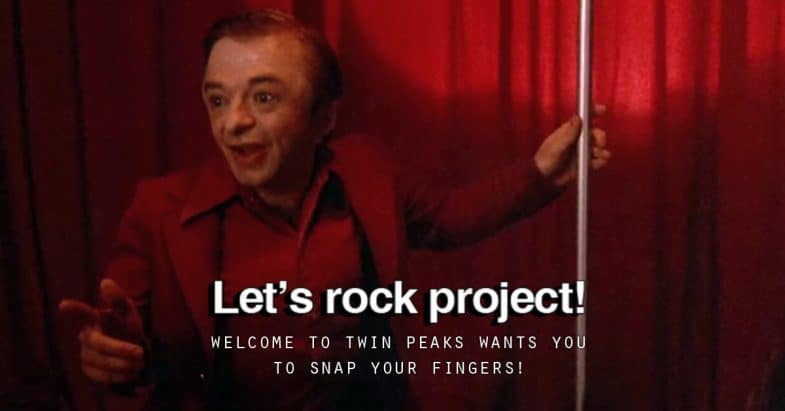 BY SHOW OF FINGER SNAPS, WHO'S READY FOR A LITTLE TWIN PEAKS SURPRISE?
UPDATE: The project is finished. Watch the crowdsourced video for Dance of the Dream Man!
You probably heard by now that Ray Wise confirmed that there has been a David Lynch directed Twin Peaks shoot this week after all.
Are you excited about the new Twin Peaks footage for the
Blu-ray
, whatever it may be? You're not alone, so
let's rock
and show David Lynch and Mark Frost just how thrilled we all are about whatever is going to happen!
LAUNCHING THE LET'S ROCK! PROJECT
Welcome to Twin Peaks wants YOU to finger snap along to this song:
We're going to make a crowdsourced video of Twin Peaks fans (including YOU) snapping along to Angelo Badalamenti's Dance of the Dream Man.
As you know, that's the song you hear in Dale Cooper's dream. And isn't the prospect of new Twin Peaks material just too dreamy?
You can contribute your finger snaps by uploading a video to Instagram or Vine. Show off your best Man From Another Place dance moves, your Twin Peaks tattoos, dress up like your favorite character or if you're shy, just show your hand, but DO SNAP VISIBLY AND HARD!
IMPORTANT RULES/REQUIREMENTS:
Record your finger snaps and then tag your public video with #twinpeaks AND mention @welcometotwinpeaks (or Twin Peaks on Vine). Important: If I don't like your video within a few hours, I have not received it. Please mention me again in its comments until "welcometotwinpeaks" likes your entry.
At the beginning OR at the end of your video, just say out loud: "For the Let's Rock project by Welcome to Twin Peaks" as an oral agreement giving me the permission to use your footage. Don't worry, your voice will not be included in the final video.
Absolutely NO background music (or noise), please. But do listen to the song beforehand and try to match the correct tempo, which is about one snap every second. Again, make sure your finger snaps are audible!
DEADLINE: Videos are still being accepted, but please contribute today if you want to be part of this!
We're going to need at least 190 finger snaps, so please share this project and ask all your Twin Peaks loving friends to contribute!
Your Instagram or Vine username will be listed in the end credits. And you bet I'm going to share the final video with David Lynch, Mark Frost, Angelo Badalamenti and other cast and crew members.
What are you waiting for? LET'S ROCK (AND SNAP)!
And when you're done, why don't you check out the Welcome to Twin Peaks photo project?
UPDATE: Just a few of the very first entries! Please keep them coming!