David Lynch and Donovan today released another collaboration in the form of a psychedelic rock song and trippy video called "Gimme Some Of That." The full proceeds of this release go to teaching TM (Transcendental Meditation) to Cork Students. Their follow-up single to "I Am The Shaman" from back in May was actually recorded first and here's how it happened according to Donovan:
I sat before the mic in David's studio and he said…
' Can you just write a song right now if I give you a title?'
' I said yeah… what have you got? '
David smiled and said OK … write a song called …
GIMME SOME A THAT
I strummed a chord on Kelly and composed Extempore… looking at Linda sitting next to David
' You got the stuff that's made of dreams
Gimme Some A That
You got that Million Dollar smile
Gimme Some A That
You got the kiss that's made of bliss
Gimme Some A That
You got the moonlight on The Nile '
David said…
' OK stop stop… let's record it now! '
And we did, me full acoustic with verse after verse coming naturally … a bridge section appeared
' All that stuff you do I don't know how you do
It's got magic in my eye
An ' I wanna be always wanna be
The one to make you sigh '
Next next day David brought in Drummer Gerry Brown and Bass Ian Martin
When we had The Trio recorded … David and his Engineer Dean Hurley began their Extraordinary Audio Horripilation…
Donovan says ;
' I can only describe it to David in these words…
You have created a Soundscape Extraordinaire
Audio Sculpting Kelly to lead into the dark underscore of T.S.Eliot's Post Industrial Wasteland
You … Photographer Painter Film-Maker Maestro at work
I hear in the deeper textures
The emotional inner landscape of decay
That youth in America and Europe experience
And wisely … you place me singing in full flight …
… My Hope-full Melancholy .. celebrating the perennial mystery of falling in love.
Linda … dancing through it all …
Beneath the Moonlight on The Nile '
David did a last mix which he described as ' High Octane ' and sent it to me to sing and Linda to dance.
The Art Cover is one single Still Image from the Video.
Gimme Some A That (Video)
Gimme Some A That Lyrics (by Donovan Leitch)
You got the stuff that's made of dreams
Gimme Some A That
You got that million-dollar smile
Gimme Some A That
You got the kiss that's made of Bliss
Gimme Some A That
You got the Moonlight on The Nile
Gimme Some A That
You got the eyes that shine like stars
Gimme Some A That
You got the Rock for ma Roll
Gimme Some A That
You make me tingle when we touch
Gimme Some A That
You got that secret in your soul
All that stuff you do I don't know how you do
It's got magic in my eye
An I wanna be always wanna be
The one to make you sigh
You got the wind in your hair
Gimme Some A That
You got the sparkle in your eye
Gimme Some A That
You got the way to make me laugh
Gimme Some A That
Now I know I can fly
Oh that thing you do you do I don't know how you do
And it makes me feel all right
An I wanna be always wanna be
With you through the night
You got that enigmatic smile
Gimme Some A That
Like that chick in the Louvre
Gimme Some A That
You got the way to make me dance
Gimme Some A That
You got that move when we groove
Gimme Some A That
You got the stuff that's made of dreams
Gimme Some A That
You got that million-dollar smile
Gimme Some A That
You got the kiss that's made of Bliss
Gimme Some A That
You got the Moonlight on The Nile
Gimme Some A That
Credits: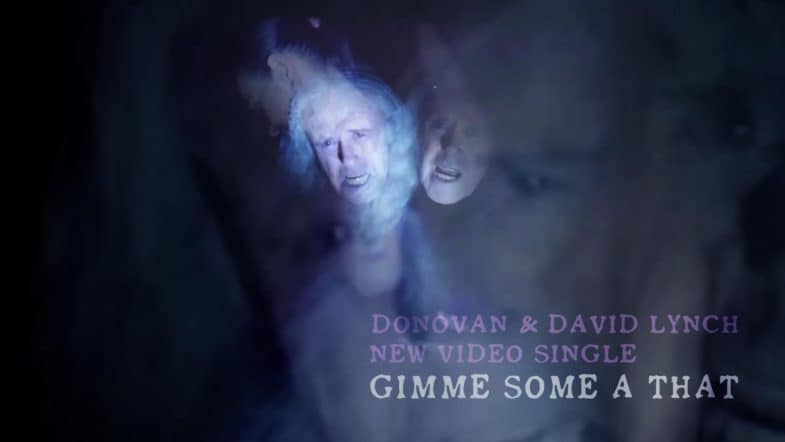 Produced by David Lynch.
Mix by David Lynch, Dean Hurley and Ron Eng
Engineered by Dean Hurley and Ron Eng
Gerry Brown: Drums
Ian Martin: Bass
Recorded in Asymmetrical Studios LA
Words & Music: Donovan Leitch
Video Directed and Edited by David Lynch
Camera by Joolz Jones
Lighting by Linda Lawrence
The Art Cover is one single Still Image from the Video
Cover design Alejandro Blasi at Calma Estudis , Majorca , Spain.
Smooth Comunicada: Sabrina Sutherland
Digital Presentation: La Cupula Music / Calma Estudis
Published By: Donovan Music & Peer Music
BMI: PRS
Licensed By Donovan Discs
Licensed by Peer Music