FBI Agent Tammy Preston by day.
Demonic Black Widow Queen in a ghost car by night.
"Night Ride The Director's Cut" premiered at the Marfa film festival in July and today, call it a Halloween treat, Welcome to Twin Peaks is proud to present its online debut.
Joseph Skorman's 12-minute narrative short expands upon the world of Chrysta Bell's music video for the David Lynch-produced "Night Ride," adding around eight minutes of brand new footage. After watching in full screen mode, be sure to scroll down for an interview with director Joseph Skorman plus behind-the-scenes shots by set photographer Elie Khadra.
Night Ride The Director's Cut starring Chrysta Bell (4K Anamorphic)
Out in the sticks, a young drifter goes wandering where he oughtn't. When a mysterious car appears, he exhibits more lust than sense and steps right into the web of a demonic Black Widow Queen. She'll leave him buried in the ground by day while she lives a normal life in the city. By night she returns to unearth him, to wake him from his eternal daze and toss him into the backseat of a "ghost car" that car drives itself. The windows fog up and the lovers drift off into a smoky in-between place, where she takes on monstrously sensual new forms with which to devour him.
Interview with director Joseph Skorman
Welcome to Twin Peaks (WTTP): What dictated the video for Night Ride? The music or the muse?
Joseph Skorman (JS): Well, I guess a bit of both. So my process when figuring out a song is usually getting into the right state of mind. Sitting with the song on loop and just kind of letting the song dictate the imagery in my mind. Once I focus on a set of ideas, that translates outward to a treatment. With this song I was keenly aware of Chrysta Bell's prior videos and imagery. I went into Night Ride wanting to push in what I felt was the opposite direction. Chrysta Bell was and is highly polished. Very glamorous. I really wanted to do something that kind of grounded her in a more punk rock or rock and roll space than she had previously been seen. So that was a bit of a filter I had at the onset. Outside of that, the song really spoke loudly to me. The visuals came fast. And the Black Widow Queen was born.
But in terms of outward inspiration there was a lot that I was pulling from, Michael Jackson's Thriller, Stephen King's Christine, Francis Ford Coppola's Dracula, of course David Lynch's films, '50s monster movies, and '80s sci-fi movies where one of the characters is intrinsically connected to a vehicle… all were huge influences on the film/music video.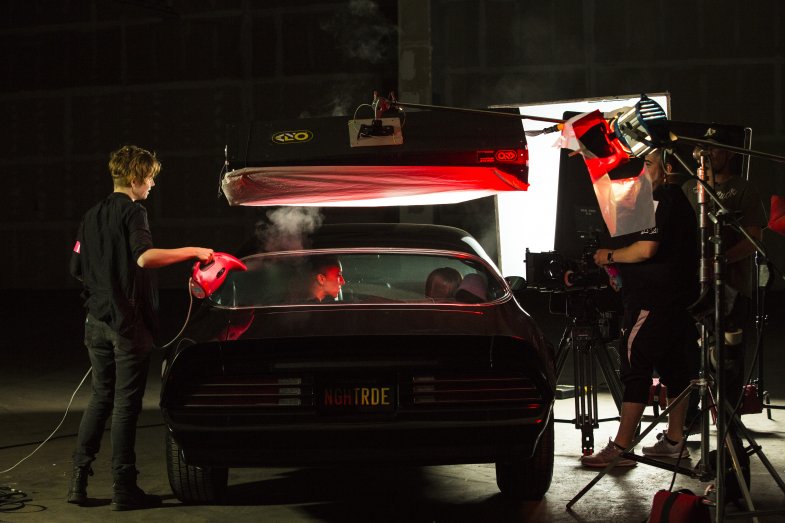 WTTP: How did the plan to make a short instead of only a music video come about?
JS: I approach most of my projects from the narrative fiction aspect. So the thing I find myself caring the most about in my work is the world building. I lust over the devil's details. Grounding the characters with as much information that pertains to the story as I can create. So the longer form version was something I had in the back of my mind after I realized what my approach for the song was going to be.
But we had a very tight schedule and we really weren't sure we'd be able to get all that I felt we needed for the video, so we held off on shooting the narrative scenes until we cleared all the other shots off our shot list. But to get more to the point, I really wanted to flesh out the Black Widow Queen character through her environment. The world and people that she affects.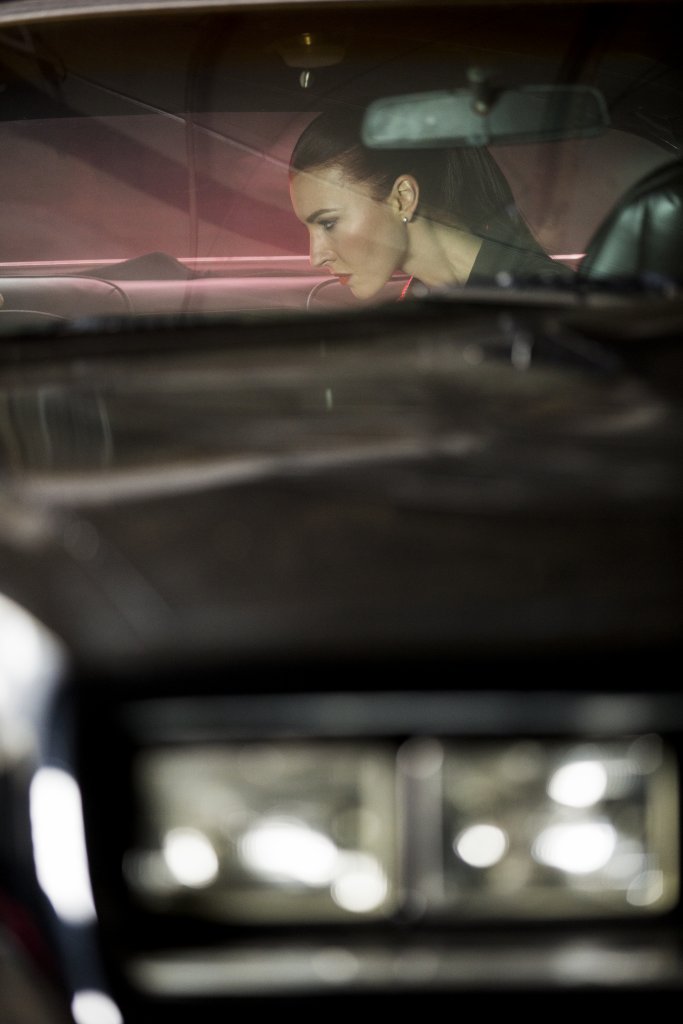 WTTP: Can you talk a bit about developing that character and directing Chrysta Bell?
JS: The Black Widow character came from an amalgamation of the seductive pulp fiction novel siren, old monster movies, and Sandy at the end of Grease. I imagined a modernized '50s movie monster. The femme fatale empowered by her sexual drive. She to me was the male fear of female empowerment at its most dark and unforgiving. A woman who feeds off of her sexual power literally. In the same way as the Dracula character was for men. There are women who can pull this role off, but none that add the graceful sensuality that is Chrysta Bell. She is an exceptionally gifted actress and brings a special quality and air of sophistication to everything she touches. If I ever did need to make changes to anything—which wasn't often—she could pivot and bring more than what I asked for. I am really looking forward to seeing what else she brings to her future characters. I hope to continue to collaborate on projects in the future.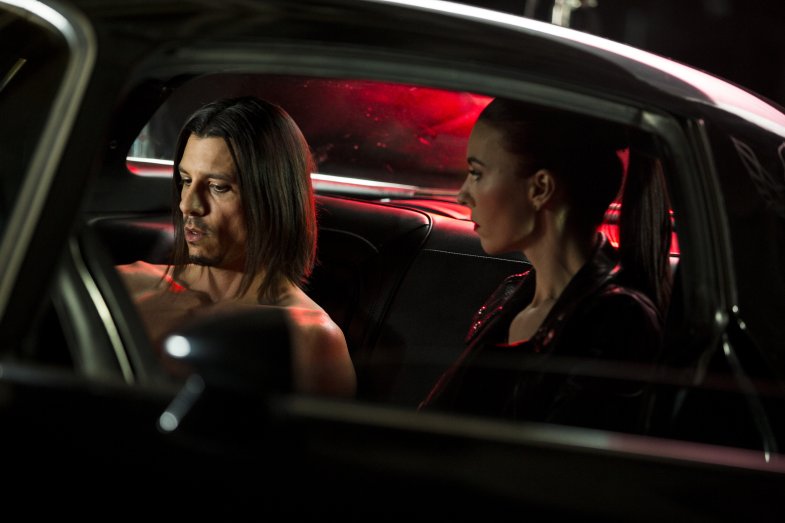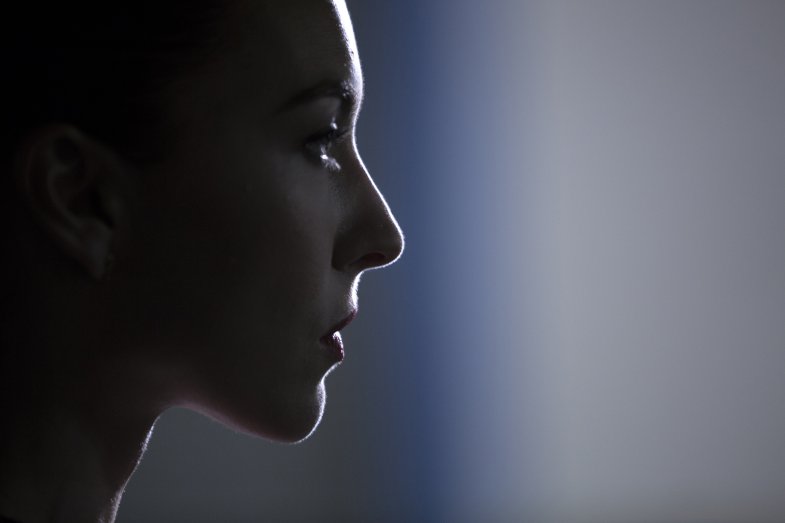 WTTP: Where did you shoot? I have to say, I love the aerial shots, especially the last one.
JS: We shot all of it in the Bay Area. From a beautiful apartment in downtown SF above the Twitter building, a wonderfully huge studio space in Oakland, a secluded piece of woods up in Auburn, and out to Altamont Pass. So basically a large amount of the Bay Area and Northern California.
The production was pretty big. My producer Jonathan Mindes (A Hundred Blocks) was instrumental in ushering in such a grand plan. The whole look was really brought to life beautifully by cinematographer Mike Revolvalcke (A Hundred Blocks, Green Is Gold). It was a very ambitious production. I wanted to shoot as wide as possible and Mike suggested using some 1970s Kowa anamorphic lenses that really helped with the look and feel. But that made all of the night shooting, which presents challenges in and of itself, extra challenging.
The aerial shots are the work of Juan Del Rio. I tried to shoot as much of the effects as I could in camera, including the title, but the last shot is digitally enhanced. It's the fine work of CGI artist Sam Sarraf (Beasts of the Southern Wild, Theeb).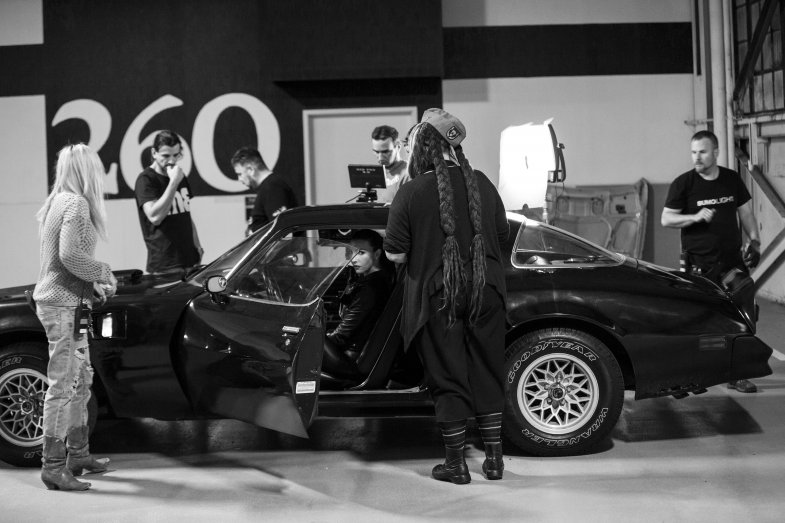 WTTP: Directing a video for a Lynch-produced song, does that play in your mind often while working on it? And we all know Lynch is a fan of night driving (Mulholland Dr, Lost Highway, Part 18…). Got any feedback from him?
JS: Yes. I think it's pretty hard to avoid. He is so prolific, and his influence can be seen across all mediums. The hard thing is trying to push away from that because I found out through this process that when you are working on a "David Lynch" project people come to set with those filters on. That being said, I definitely wanted to pay homage to those motifs. Once you add night driving it's hard to not think of his work. His driving visuals hit on such a deep, primal level. As far as feedback, David is an elusive artist. Who was heavy in the production of his own baby, AKA Twin Peaks, when the initial music video was released. So your guess would be as good as mine. But I hope it's received by the public as its own work.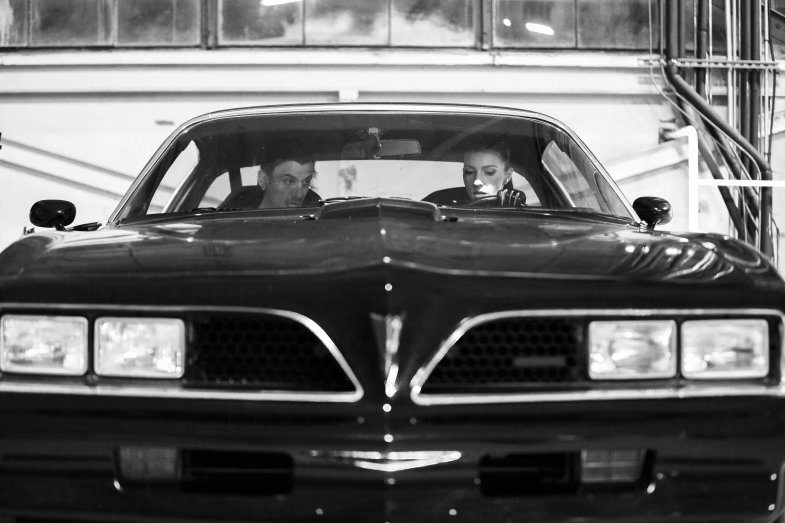 WTTP: What's next for you, Joseph?
JS: I have a few things in the works. I'm coming up to preproduction on a sequence for a feature film that I'm a guest director on—which is as interesting and exciting as it sounds. I'm also working on a few different music videos. One with the band Dallas Acid, who I connected with at this year's Marfa film festival (where we premiered this director's cut). Another is with an artist from New Zealand making his US debut. I'm super excited about both. Music videos seem to be entering a new space with renewed value for the art involved in making them. I'm hoping to work with more and more artists who have a strong art-forward image they want to present.
For more information and updates on what Joseph Skorman is up to, check out www.panic.productions, like PANIC on Facebook or follow on Instagram. For all things Chrysta Bell, visit chrystabell.com.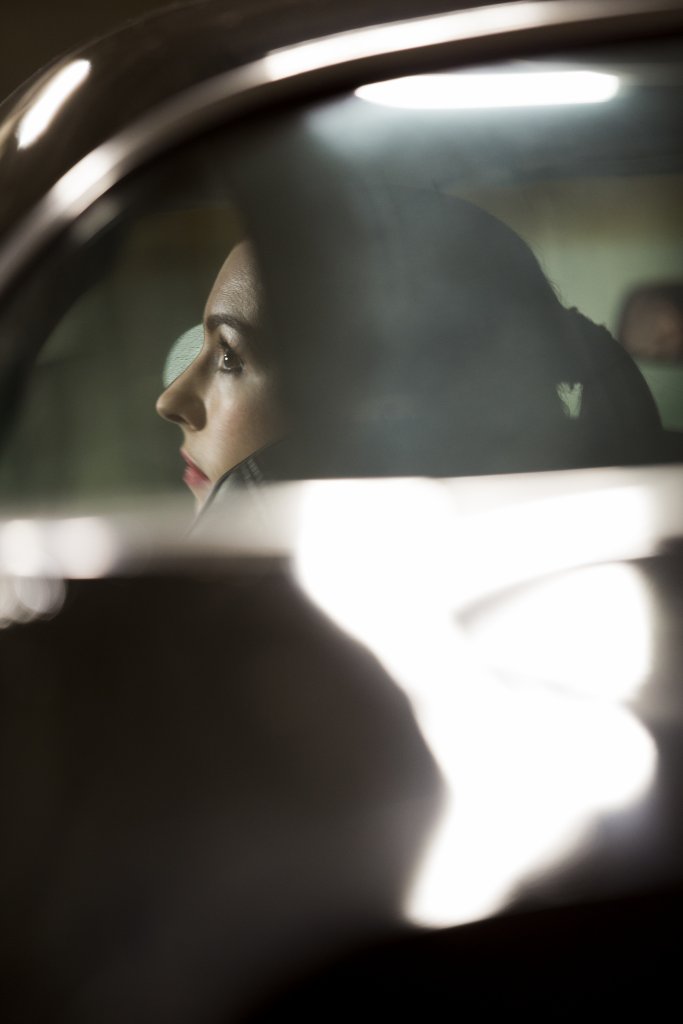 Photos by Elie Khadra.