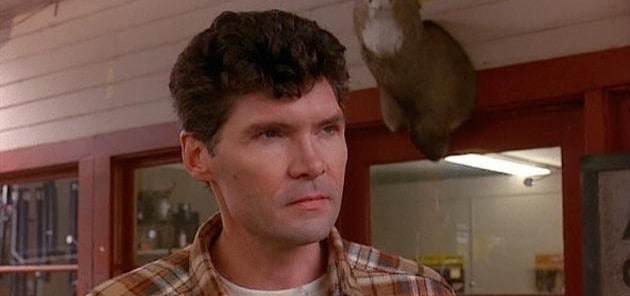 It's been a while since we last heard or saw Everett McGill, who played the lovable gas station owner "Big" Ed Hurley in Twin Peaks. The now 68-year-old actor born Everett Charles McGill III, was last cast in Jag on TV, and David Lynch's The Straight Story on the big screen back in 1999. He's been laying so low since his retirement as an actor, not even Brad Dukes —who interviewed over 100 cast and crew members for his book Reflections: An Oral History of Twin Peaks— was able to track him down.
And now David Lynch joins the search for his lost Bookhouse Boy. Whether it's to talk Twin Peaks, to cast him in a new film or television project, or something completely different, we don't know… but the director seems to be serious about finding him as he's relying on his Twitter followers for help.
Dear Twitter Friends, do any of you know where Everett McGill is? I'd really like to talk to him. Thank you.

— David Lynch (@DAVID_LYNCH) August 13, 2014
From a '92 article in Deseret News, we learn that Everett lived (or still lives) near the Mogollon Rim in northern Arizona. He also played guitar and keyboard in a hard-driving rhythm-and-blues band in New York. Anyone know the band's name, or any former members? Or any former colleagues or schoolmates still in touch with him?
Any help that could lead David Lynch to Everett McGill is much appreciated, so please retweet and share whatever you know in the comments or contact Welcome to Twin Peaks privately.
UPDATE: Dave found "Ev" thanks to Steve, a reader of Welcome to Twin Peaks. Thanks to everyone who sent in tips! This is straight from David Lynch's e-mail:
I had a GREAT talk with Ev this morning !!!!!!!

UPDATE (2017): At the Twin Peaks premiere in L.A., Everett McGill talked about receiving the phone call on August 15, 2014, at an empty house he only visits every couple of weeks. He hadn't heard the yellow phone ring in 10 years!
You won't believe this, but the first time we talked it had been 20 years. I hadn't been in touch with [David Lynch] in 20 years. He called me at a telephone number that's not been used. The phone still exists, but it's my mother-in-law's house which has been empty for 7 or 8 years. I was down there checking on something. Phone rang there, I don't know how he got that number. We talked for about an hour-and-a-half and he didn't mention Twin Peaks at all. I tell him, chances of you reaching me at this number are one in a million. He said, "In case I need to be in touch with you, do you have a better number?" Probably six months after that he called me and said, "We're gonna get the old band together!"