Want to visit the set of the new Twin Peaks, just like this lucky kid did back in 1990?
Do you ever dream of meeting… even being directed by David Lynch?
Of course you do!
(I have already received your e-mails, tweets, and headshots to prove it.)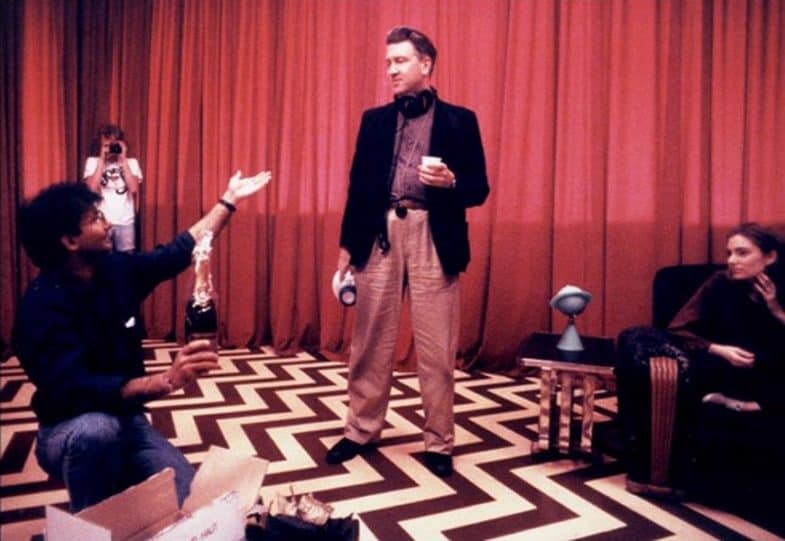 But I'm going to tell it to you straight: you have only one shot… and it's going to cost you.
Charitybuzz and the David Lynch Foundation, who previously joined forces to auction off rides with David Lynch on Mulholland Drive and coffee dates with Kyle MacLachlan, today launched an online charity auction for a 2-hour set visit for two plus non-speaking parts in the new series on March 5, 2016 in Los Angeles.
(At this point, please remember to keep breathing.)
Specifics of the extra roles will be decided by the production team and the fine print mentions there's no guarantee the scene will make it into the final cut of the series, but even appearing in a deleted scene gives you fulfillment (not to mention bragging rights) for life. Just forget about bringing your camera and shooting exclusive behind the scenes photos, and be prepared to sign liability releases and non-disclosure agreements. Yes, it can wait till 2017 (but please do reach out in case you're the winner).
Meet David Lynch, Be an Extra & Visit the Set of Twin Peaks on March 5 in LA
Bring a friend and enjoy the incredible opportunity to visit the set of Twin Peaks on Saturday, March 5 in Los Angeles. While on set, you and your guest will get to be extras during filming and also take a picture with David Lynch!
The Charitybuzz auction ends Thursday, February 25 2016 at 3:30:00 PM EST and has an estimated value of $5,000 (the bid at the time of writing is $1,550). Proceeds go to the David Lynch Foundation, which raises funds to teach evidence-based, stress-reducing meditation techniques to at-risk populations, including inner-city youth, veterans, and women who are survivors of domestic violence.
UPDATE: The winning bid was $12,500!