https://www.youtube.com/watch?v=HYqe9LE1aDY
In heaven, everything is fine. You got your good things. And I got mine.
A David Lynch tribute night doesn't get any more surreal than this.
The Lady In The Radiator from Eraserhead, Laurel Near, is set to perform Peter Ivers' haunting "In Heaven" song LIVE at PhilaMOCA's 4th annual David Lynch celebration, Eraserhood Forever. The event space is a former tombstone and mausoleum showroom located right in the middle of the neighborhood that inspired David Lynch for his first feature as he lived there across the old city morgue on 13th and Wood. To make it even more otherworldly, the actress/singer will be backed by the Divine Hand Ensemble, an enchanting chamber orchestra led by Mano Divina on theremin.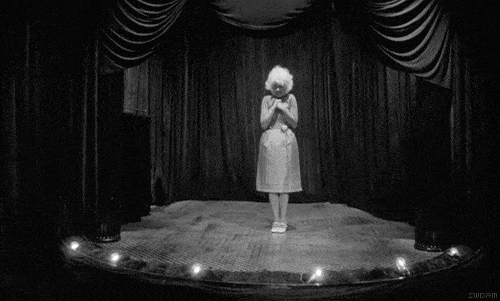 If they got you at "The Lady In The Radiator LIVE," grab your ticket NOW, because this show will sell out. But there are plenty of other reasons beyond the fascinating headliner to travel to Philadelphia on October 3rd 2015 to attend Eraserhood Forever 2015.
Ten-piece band Northern Arms will surely be responsible for another spine-tingling moment with their live version of Jimmy Scott's Sycamore Trees, in addition to their own musical blend of jazz, folk, and gospel. Brooklyn's a place both wonderful and strange is bringing a reworked version of the audiovisual piece "Keys Open Doors: The Hidden Life of Laura Palmer" based on Laura's terrifying last few days in Twin Peaks, and the recently discovered "Missing Pieces." Meanwhile, expect David Lynch-themed burlesque from Philly's own Liberty Rose accompanied by special guest magician Francis Menotti, and David Lynch and Angelo Badalamenti inspired DJ sets from yours truly, @ThatsOurWaldo. As always, comedian Paul Triggiani will host the night as his very suave alter ego, Ben Velvet.
Get your tickets for Eraserhood Forever 2015 today.
Address: PhilaMOCA, 531 N. 12th Street Philadelphia, PA 19123
Date: Saturday, October 3, 2015 (doors 7:30 PM, show 8:00 PM)
PhilaMOCA is also still accepting art submissions for the David Lynch themed exhibition that will coincide with Eraserhood Forever 2015.
In heaven, everything is fine. You got your good things. And you got mine.
Eraserhood Forever 2015 poster (by Stacey Wood)