In a Six Degrees of Kevin Bacon kind of way, Twin Peaks cast members often reappear together in other movies and television shows. There's West Side Story with Richard Beymer and Russ Tamblyn, or People Under The Stairs with Everett McGill and Wendy Robie. Really, I could go on and name a bunch of others, but that would be an entirely different post.
Now RoboCop, the '87 science fiction movie, stars not two but three Twin Peaks actors: Ray Wise, Miguel Ferrer, and Daniel O'Herlihy were all cast by Paul Verhoeven, and again a few years later -because he loved them in Robocop- by David Lynch.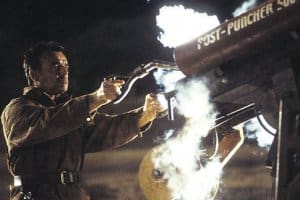 If you've been following our Waldo on Twitter for a while, you'll probably remember this little trivia from an old tweet, but I'm still geeking out over the fact that Ray Wise keeps the tattered clothes he wore in RoboCop inside his bedroom closet… "wrapped in plastic, like Laura Plamer." His words, not mine:
Please note that this video contains spoilers for those who haven't seen RoboCop yet.
https://www.youtube.com/watch?v=nuEZb_xn_JU#t=725s
Watch the entire video from the start for entertaining interviews with Ray Wise, Miguel Ferrer, and Daniel O'Herlihy.