One year ago, Russ Marshalek and Sophie Weiner joined forces for the very first time to provide a new soundtrack for the Twin Peaks pilot. That night in Brooklyn, NY, Silent Drape Runners were born. And to celebrate their first anniversary, the duo is organizing a Halloween party where they will, hold on to your seat, perform a ritual to summon the presence of the ultimate evil, BOB.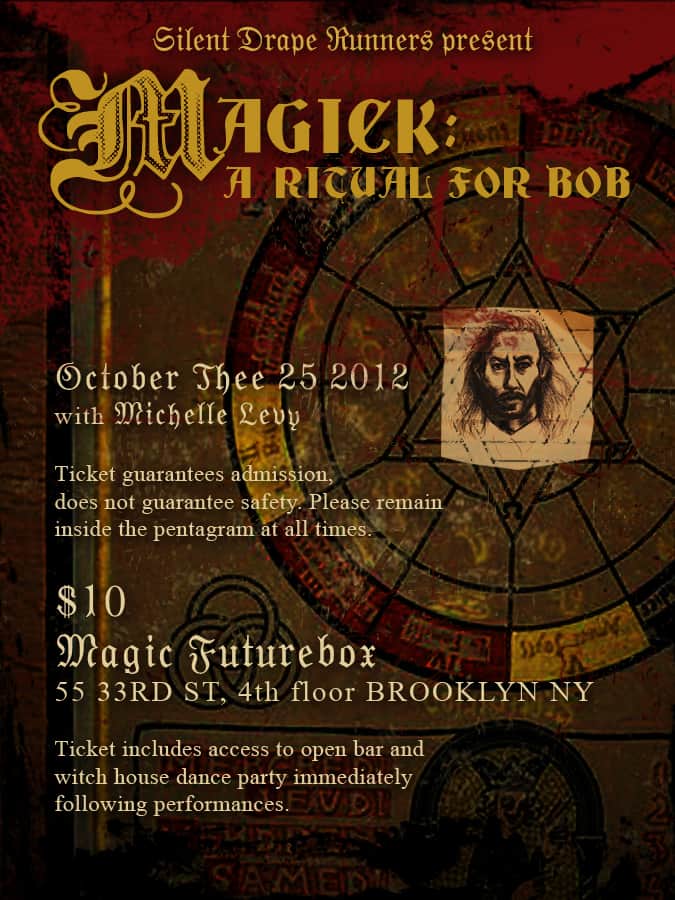 An occvlt resoundtracking of various facets of Twin Peaks and Twin Peaks: Fire Walk With Me consisting of both healing and damaging sounds combine with a fully-immersive environment (from the moment you exit the train) to push sanity to its limits, before Michelle Levy attempts to connect with the spirit of Agent Cooper. Good vs. evil and you're in the middle. Please remain in the pentagram, it's there for your safety.
Tickets for this "terrifying and flooring performance-art event" go for $10 in advance ($15 at the door) and include an open-bar witchy dance after-party with open bar. Admission yet no personal safety guaranteed.
Magick: A Ritual for BOB.
Venue: Magic Futurebox, 55 33rd St., Brooklyn, New York 11232.
Date: Thursday, October 25, 2012 at 7:30 PM (EDT)
I'll be giving away a pair of tickets for this event real soon. Keep an eye on
Facebook
and
Twitter
.
UPDATE: A few photos from the event are now on Facebook.