In almost every recent interview, David Lynch denied the fact that he had caught an idea for a new movie, but daughter Jennifer Lynch last month revealed that a film idea is there and that it is —how could it not be?— "mind-boggling". David Lynch also lately and repeatedly mourned the decline of art houses, stating that his kind of movies typically do not get people into regular theaters and don't make any money. So where is he going to find funding outside the film industry? Let's ask his daughter again…
UPDATE: This article has been updated. Please read the rectification below.
Director and writer Jennifer Lynch, one of the special guests at the 21st annual Twin Peaks Fest that is currently taking place in and around North Bend, WA, last night told the festival's attendees that she's trying to get her dad on Kickstarter to fund his next movie. There's no doubt in anyone's mind that an official David Lynch Kickstarter campaign would become one of the most successful ones to ever hit the crowdfunding site. In 2012, a documentary about David Lynch reached six times its original funding goal, and earlier this year, Lynch's youngest son Riley found 107 backers to fund his own untitled film project. A few months ago, we fantasized about a Twin Peaks Kickstarter campaign and found thousands of people ready to fund it, no matter what it was. And remember: there are more David Lynch fans than Twin Peaks fans out there.
Maybe we can help convince him to launch a project? Share, like and tweet this article, and leave your thoughts below. I guess the question is: would you fund a David Lynch's next movie project on Kickstarter?
RECTIFICATION: Twin Peaks Fest attendees Brian and Kelly reached out and told me that Jen did not say anything about trying to convince her dad to launch a Kickstarter campaign. Brain wrote me in an e-mail that they recommended Kickstarter to her for her new film project, and fest attendees also said they'd gladly pay for a David Lynch Kickstarter. "She never said that she was going to tell David to crowdsource a movie or even that David had a movie that he wanted to work on," Brian adds. I should have verified my information with a second source, so my apologies to David and Jennifer Lynch as well as all of you for publishing incorrect information.
The Kickstarter camp would obviously welcome the filmmaker with open arms. The story goes that Yancey Strickler, one of the co-founders of the popular crowdfunding site, wanted Lynch on board for one of the very first Kickstarter campaigns back when they launched in 2009. The idea was to finally crowdfund the release of the much-desired deleted scenes from Twin Peaks: Fire Walk With Me (side note: there's a good chance they will be included on the upcoming Twin Peaks Blu-ray release). And below is a recent post from the Kickstarter Tumblr page, confirming their enthusiasm about a possible David Lynch campaign. Recognize the movie still?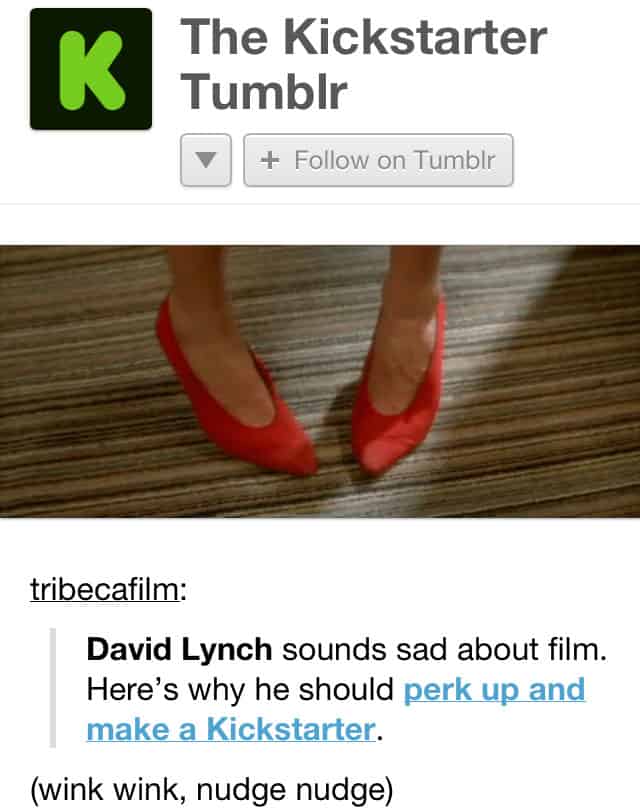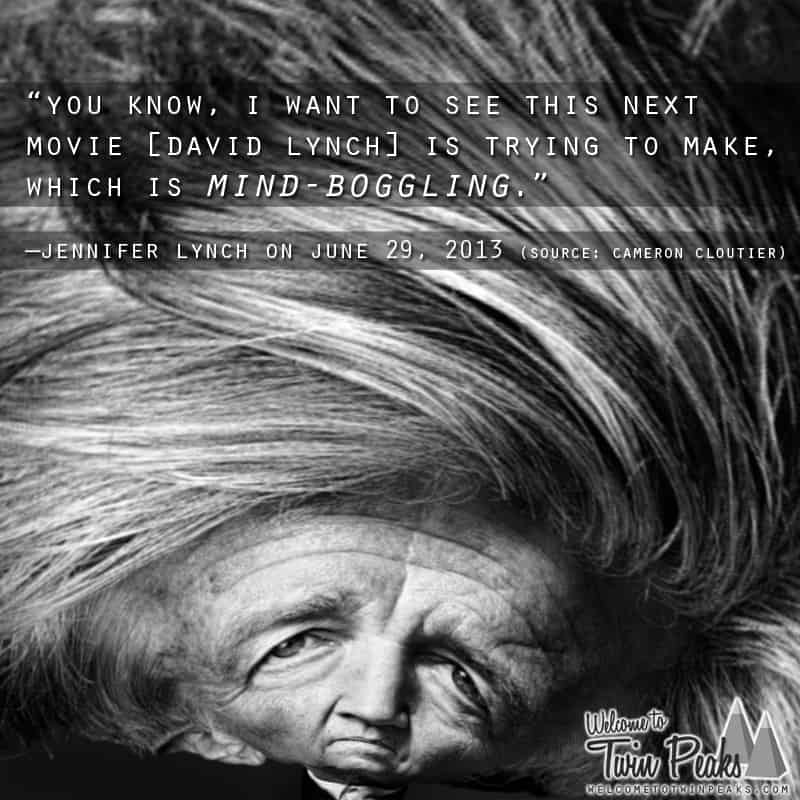 Thanks to Glenn Dunks!