After hosting its 2016 and 2017 editions in David Lynch's hometown of Los Angeles, the filmmaker is bringing his Festival of Disruption to New York City's stunning Brooklyn Steel from May 19 through 20, 2018, with a private kick-off party on Friday the 18th.
During the weekend, the daytime program includes a moderated Q&A with David Lynch, screenings of Blue Velvet and There But Not There followed respectively by talks with Isabella Rossellini and Gregory Crewdson. Attendees can also enjoy exhibitions by William Eggleston, David Lynch, Sandro Miller and David Oreilly. Evening performances on Saturday include Animal Collective, Flying Lotus (DJ set), and Jon Hopkins. Angel Olsen (solo), Au Revoir Simone, Jim James (solo) and Rebekah Del Rio perform on Sunday.
UPDATE: Added to the line-up are DJ sets by Dean Hurley on Saturday, and Hudson Mohawke and Nancy Whang on Sunday.
The full schedule has now been shared here.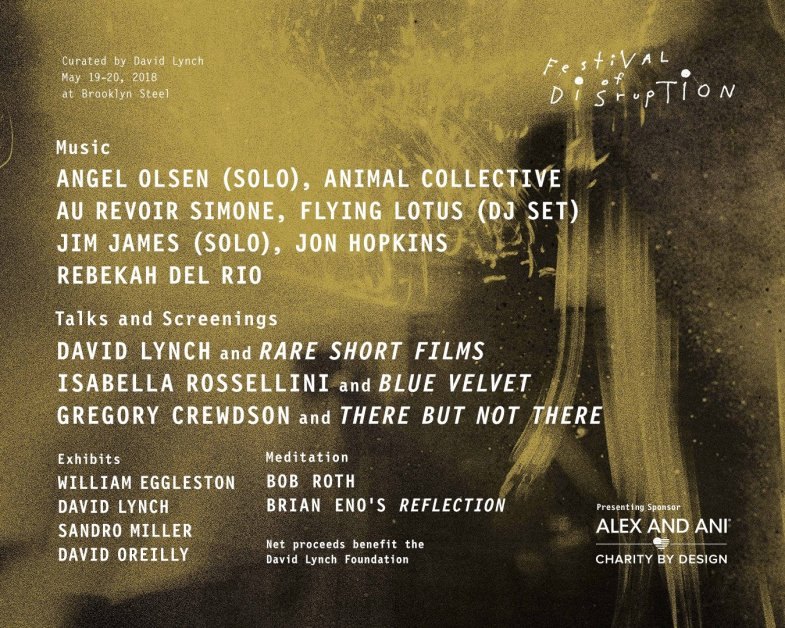 Last year, extra names were added to the lineup in the weeks leading up to the event, so here's hoping for some more East Coast guests and musicians like Angelo Badalamenti, Julee Cruise, Kyle MacLachlan and Silencio!
Tickets start at $59.50 (excluding fees) and go on sale on Thursday, March 8 at 10 AM, but those subscribed to the David Lynch Foundation's newsletter will have received a pre-sale code in their inbox by now.
Will I see you under Brooklyn's Sycamore* trees?
(*Actually, the sycamore's hybrid cousin, the London Plane, is the 2nd most common NYC street tree.)