Eraserhood Forever is an annual celebration of David Lynch hosted by PhilaMOCA, smack-dab in the middle of the neighborhood that both terrified and inspired the director/artist. The third edition is being held in conjunction with the Pennsylvania Academy of Fine Art's retrospective on the work of David Lynch, and runs from September 5 (opening reception from 6-10 PM) through 27. On the closing night, you can expect "entertainment extravaganza featuring Lynch-themed musicians, comedians, burlesque, and surprises!"
PhilaMOCA is currently looking for artists for the exhibition part. So if you made David Lynch inspired art, you have until August 27 to submit it.
All mediums are welcome (no hazardous materials); restrictions apply to video/3D pieces/sculptures. Please send digital files or photos of submissions to curators Jay Bilinsky and Michael Carroll at [email protected]. Links are preferred for six or more entries. There will be a $25 participation fee per selected piece of artwork, 100% of sales go to the artists.

Accepted Art Delivery: Drop-offs of accepted art can be made at PhilaMOCA (531 N. 12th Street) on Tuesday, September 2 from Noon – 6:00 PM. Work must be ready to hang and prepared for installation. Art delivered by mail must include return postage and must arrive by September 2.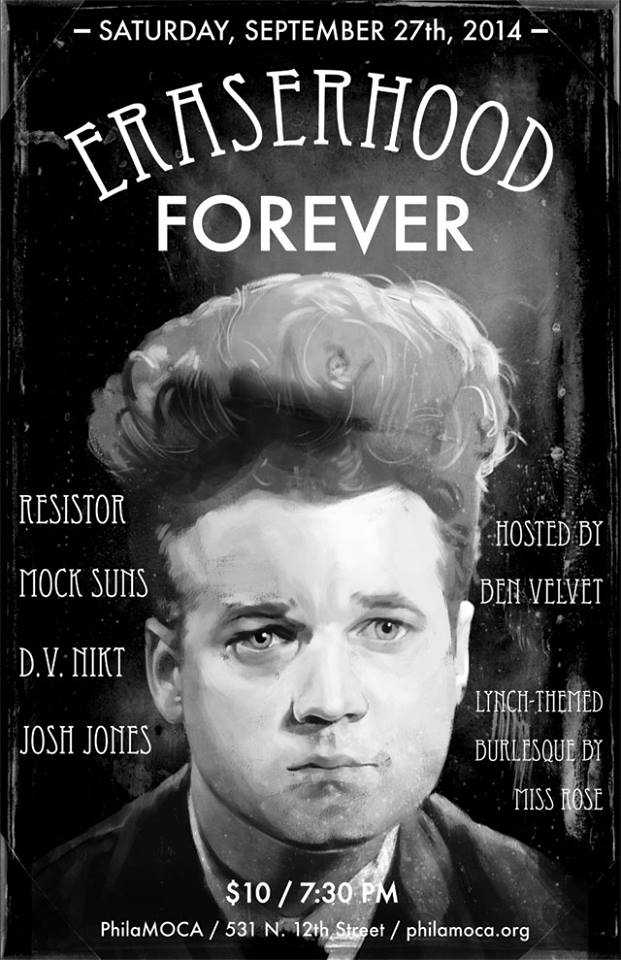 In addition to Eraserhood Forever, PhilaMOCA is also hosting LYNCH 101 presented by Video Pirates on September 3:
LYNCH 101 is a comedic video history of the film and television career of David Lynch compiled and hosted by PhilaMOCA's director/curator Eric Bresler. While the program will cover all of his major film and television achievements, it will mainly concentrate on rarities including Lynch's short films, music videos, commercials, and mainstream coverage of his work. From Japanese coffee-in-a-can commercials starring the cast of TWIN PEAKS to Lynch-shot film festival intros, LYNCH 101 is both a comprehensive introduction for the unfamiliar and a surprise-filled joyride for the die-hard fans.
As well as the after party for the opening night of PAFA's David Lynch: The Unified Field exhibit on September 12, featuring a live performance by a place both wonderful and strange who will be presenting a re-working of the Twin Peaks: Fire Walk with Me deleted scenes along with a DJ set.
There will also be screenings of the faux David Lynch biopic, The Dreamlife of David L., on September 4, 17 and 24.
PhilaMOCA is located at 531 N. 12th St., Philadelphia, PA 19123. You'll recognize it by the fantastic Eraserhead mural.