"Diane, I'm in Greenwood and it appears they've created an art show based on my time in Twin Peaks. Diane, I think these artists even had detailed accounts of my dreams. It's really something to see, Diane."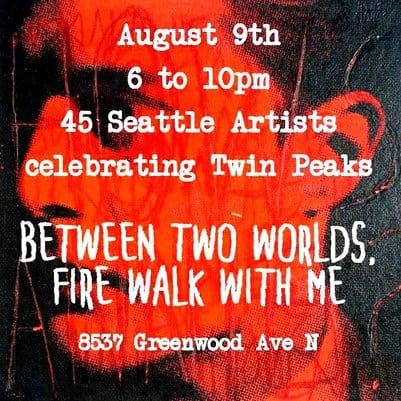 Tonight, a Twin Peaks art exhibition titled Between Two Worlds, Fire Walk With Me opens at Seattle's Echo Echo Gallery. Forty-five Seattle artists contributed their Twin Peaks inspired artworks to the show, and as always, Welcome to Twin Peaks is offering you a sneak peek!
"We're a group of artists from Seattle that put on a monthly show at The Greenwood Collective for the Phinneywood Second Friday art walk. After a few meetings where we kept talking about Twin Peaks we thought, "Why not just do a Twin Peaks show?". Of course, we couldn't keep this amazing idea to ourselves, so we recruited other talented Seattle artists to join in showing their work inspired by the show.

August is a special artwalk for the Phinneywood neighborhood – we close the streets and invite everyone out! Look for our Twin Peaks themed games outside and follow the "Welcome to Twin Peaks" sign for art."
Like any self-respecting Twin Peaks event, there will be pie and coffee and "always music in the air" thanks to DJ Shane Deegan. Guests are encouraged to dress as their favorite Twin Peaks character too.
Featured artists for Between Two Worlds, Fire Walk With Me:
Echo Echo Artists: Alexandria Sandlin, Christopher J Olson, Maxx, Ripley and Xavier Lopez Jr.
Guest artists: Adrian Gongora, Aliesha Larson, Amy Chisman, Barbara Dunshee, Braden Duncan, Brian Britigan, Casey Brookbush, Chani Murat, Curtis Ashby, Eli Wolff, Eric Dyer, Gus Bulaoro, Hera Won, Jared Lee Steiner, Javier S Ortega, Jennifer Six, Jesse Link, Jimmy Anderson, Jon Young, Jordan Giarratano, Joseph Brooks, Kassandra Davis, Katie Wilson, Kylie Waibel, La Ru, Laura D'Agnolo, Mallory Milke, Mantisart, Megan Marie Bishop, Melissa Jenkins, Mena Aklilu, Michael O'Driscoll, Mike Mullins, Nolan Harris, Reed Carpenter, Ryan "Henry" Ward, Shane Deegan, Starheadboy, Ted McIntyre, TNGLR & Travis Baechler.
Date: Opening reception night on August 9th 2013 (6-10 PM). End date not provided. Echo Echo Gallery is open by appointment and most Fridays from 12-6pm.
Venue: Echo Echo Gallery and Urban Light Studios are located at 8537 Greenwood Ave N, Seattle, 98103.