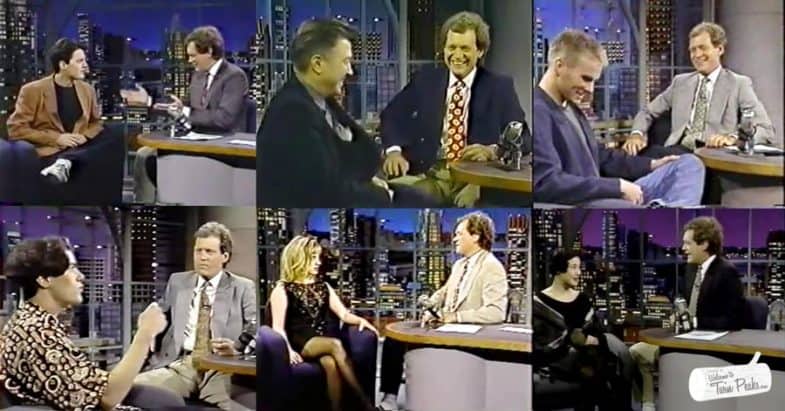 In honor of legendary TV host David Letterman's farewell to Late Show, here are nearly all the early '90s interviews he did with the cast members Dana Ashbrook, Kyle MacLachlan, James Marshall, Kimmy Robertson and co-creator David Lynch while Twin Peaks was still on the air, or in promotion of Twin Peaks: Fire Walk with Me.
UPDATE: The missing interviews with Russ Tamblyn and Kimmy Robertson have been added thanks to Chevy!
Dana Ashbrook on David Letterman (May 4, 1990)
"Letterman was my first trip to New York. I was 22, got out at 30 Rockefeller center and looked up and almost fell backwards because it was so high. The limo driver stopped me from falling and I felt like such a country bumpkin."
—Dana Ashbrook
Kyle MacLachlan on David Letterman (June 20, 1990)
"Where were you February 24th?"
—Kyle MacLachlan to David Letterman (who suspects Dale Cooper killed Laura Palmer)
Here's an interesting bit. The interview aired after the first season finale in which Dale Cooper takes "three in the chest."
David Letterman: Are you dead? […] You know you're coming back.
Kyle MacLachlan: I have a pretty good chance. Five years contract. Very good chance.
Russ Tamblyn (August 2, 1990)
David Letterman: The new fall season begins, I guess, in about a month. (…) Are they gonna continue the same thing? Are we gonna try and find out who killed this poor girl?
Russ Tamblyn: I guess they're gonna find out, but nobody knows. Not even David Lynch's son.
Kimmy Robertson (October 25, 1990)
Unsurprisingly, the most hilarious of them all. Just a few quotes:
"They give us fake scripts now. Sometimes they film the scene more than once. (…) But they probably don't use real film… Never mind, Bob [Iger], that was a joke!"
—Kimmy Robertson

"It's like the Lucy, Andy & Dick Show. And everybody else is on the regular show, Twin Peaks."
—Kimmy Robertson

"Sometimes at wrap parties, he'll let me put my fingers through it."
—Kimmy Robertson on David Lynch's hair
Lara Flynn Boyle (1990)
David Lynch (February 27, 1991)
David Letterman: It seems like it might be the kind of show that would have a limited run and then would become a classic forever.
David Lynch: That's OK too. If it has to end, that's alright. But if it doesn't have to end, that's even better.
A backup, just in case.
Kimmy Robertson (March 22, 1991)
"I was hoping that the dance would be too strenuous for Lucy and she might lose the baby, so I don't have to wear one of those pillows for 10 years!"
—Kimmy Robertson
James Marshall on David Letterman (August 28, 1992)
James Marshall: Basically my deal is to, like I did on the show, brood and kiss [Laura Palmer].
David Letterman: Good gig!
Bonus: Joan Chen on David Letterman (1988)
This interview dates from before she was cast as Josie Packard in Twin Peaks.
"I think they cut out my foot being sucked… by a woman."
—A 28-year-old Joan Chen about her hit movie The Last Emperor.