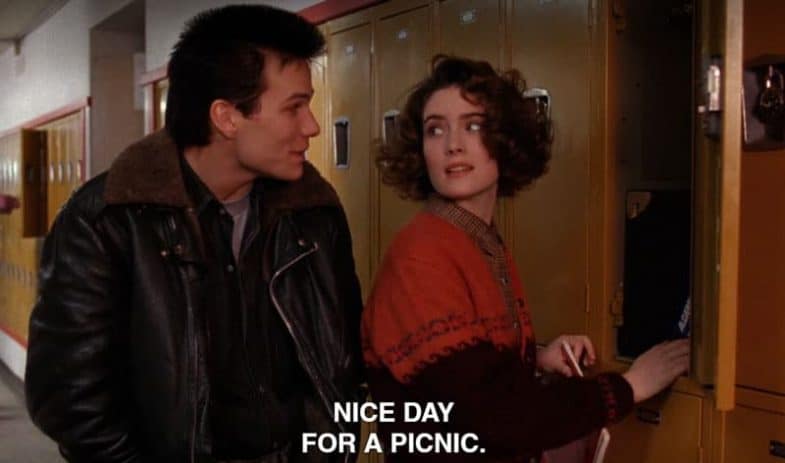 February 12, 1989, was the memorable day Donna Hayward, James Hurley and Laura Palmer had their upbeat, care-free and famously video-recorded picnic together. For the last time, the three of them ate, danced, laughed and enjoyed 'one of the region's grandest views' of the peaks and the valley. It was during this shoot, which happened at Snoqualmie Point Park (37580 SE Winery Road) back when it did not yet have actual picnic tables and an open-air amphitheater, that David Lynch saw something in Sheryl Lee's performance that inspired him to bring her back to the show as another character.
Here's the video "by this woman hiker" (which coincidentally rhymes with male biker):
COOPER: So you're on a picnic, just the two of you. Way up in the mountains, not another soul around.
DONNA: Is there some law against having a picnic?
COOPER: Donna, this is interesting to me because with just the two of you out there, I can't for the life of me figure out how these pictures got taken.
DONNA: Ahh … Well … that, that's easy… there was … this … umm … hiker that came along. This woman hiker, had a backpack and uhmm … we asked her to take the pictures for us. (tears)
COOPER: What was her name?
DONNA: I don't know. I don't think we asked her. I forgot. I don't know.
COOPER: Donna, who are you protecting?
DONNA: (more tears) Nobody, that's really what happened.
COOPER: Does this person's name start with the letter 'J'?
DONNA: No, she didn't tell us her name.
COOPER: Donna, this is serious business. More serious than Laura falling in love with someone other than her boyfriend. Much more serious than you know.