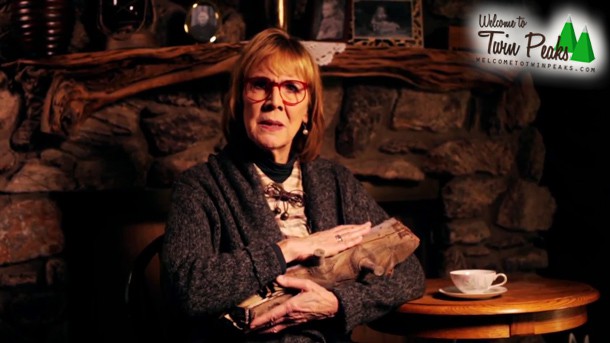 13-year-old Lydia Night (singer, songwriter and guitar player) and 11-year-old Marlhy Murphy (drummer) form the garage rock duo Pretty Little Demons and they're officially the coolest band the other side of Glastonberry Grove. Not only are the teenage girls rocking out inside the Black Lodge in their latest music video, they also managed to get none other than Catherine E. Coulson to reprise her role as the Log Lady!
"It was a dream come true for me. Log Lady is my favorite TV character of all time. Plus, I got to turn my garage into The Black Lodge and it will live that way forever."
—Morgan Higby Night (director)
Just like the Log Lady introductions that were filmed and directed by David Lynch for the 1993 Twin Peaks rerun on Bravo, Catherine E. Coulson provides the intro for Unknown Species. You can read her entire monologue below. The Twin Peaks inspired music video was written, directed, produced and edited by Morgan Higby Night. "The girls learned the song backwards and are playing it backwards in The Black Lodge to be true to how David Lynch filmed it," the director and father to Lydia tells Welcome to Twin Peaks. "Twin Peaks is my daughter's second favorite show. Buffy is the first."
Other interesting trivia: Syd Lynch, granddaughter of David Lynch, did the make-up for the video, and The Kills singer Alison Mosshart stars as "Dr. Palmer".
UPDATE: Lydia and Marlhy changed their band's name to Regrettes in August 2015.
Hello again.
These woods and I have been here a long time. We've seen many things.
Life.
Death.
Birth.
Birth comes to all species and death only to some. Do you know which are which?
Owls.
Deer.
The salmon.
Demons.
Are demons really a species?
Can that ever be known?
Can a demon be pretty?
What size is a demon?

Notes come in all shapes and sizes.
You can write your father a note even if he's passed on.
When you observe something out of the ordinary, you take note.
Banks have notes.
Promises can have notes as well.
But there's a much more important kind of note.
The type a nightingale might make.
Some think notes may sound better with technology. I think not.

Can science grow its own notes?
Notes that come from actual species?
The answers lie in the woods.
The same woods where I am from.

Pretty Little Demons – Unknown Species (Lyrics by Lydia Night)
Classify Me, Identify Me
Is There a Lock that Will
Ever Fit This Key?
Who's the King & Who's the Queen
Which Kingdom is
Meant for Me?
Class, Order, Family
Put Me With My Destiny
Gettin' Tired of Waitin' 'Round
Taxonomist, Put Me on Your List!
I'm an Unknown Species
With a Heart to Mold
Tell Me What I Am
Oh Can't You See I'm Getting Old?
Stick a Tag Onto My Face
Label Me 'Cuz All I Want's a Place!
Put Me in Your Pile of Rocks
I'm Just Sick of These
Talk, Talk, Talk, Talks
I'm an Unknown Species
With a Heart of Gold
Tell Me What I Am
Oh Can't You See I'm Getting Old!