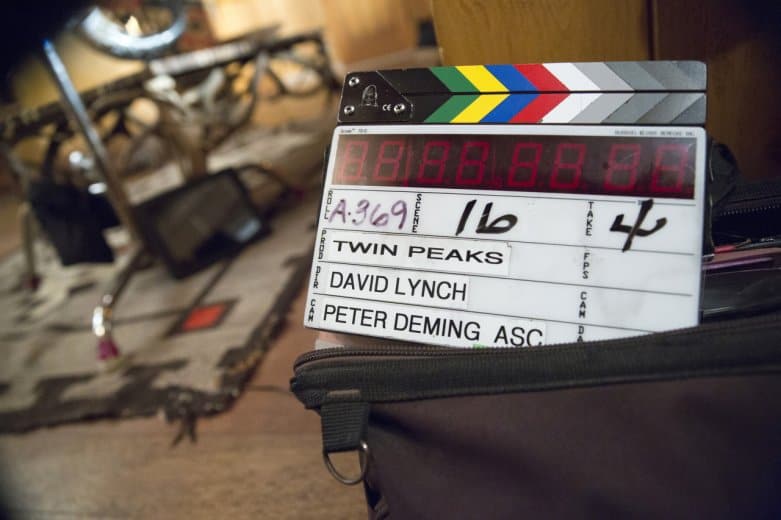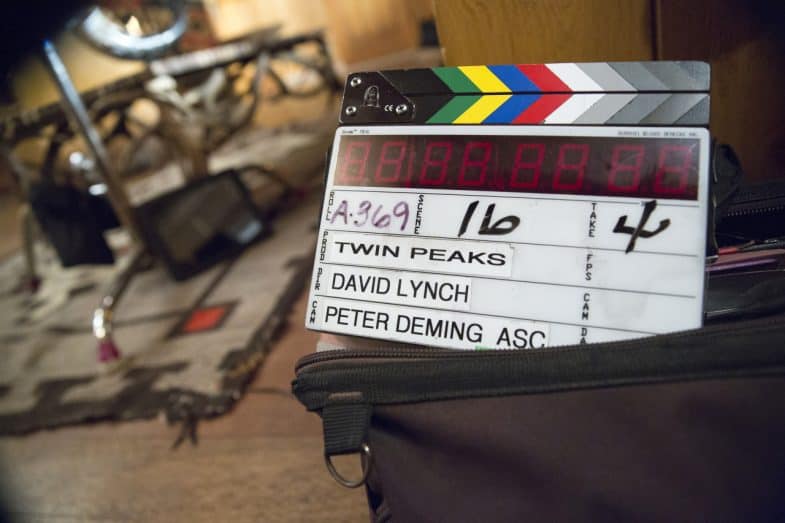 Following yesterday's announcement of the full cast list, Showtime, David Lynch and Mark Frost have released the names of the production team on the highly-anticipated new Twin Peaks. Several members of the team are longtime Lynch collaborators, who also worked on the original Twin Peaks. Those who have previously worked on the Twin Peaks world have been asterisked (*).
Note: The music department isn't included, but Angelo Badalamenti has been confirmed to be contributing to the new soundtrack.
DIRECTOR/PRODUCERS
Director/Executive Producer: David Lynch *
Executive Producer: Mark Frost *
Producer: Sabrina S. Sutherland *
Line Producer/UPM: Christine Larson-Nitzsche
PRODUCTION
Assistant UPM (WA): Fon Chen Williams
Production Supervisor: Kate Kelly
Production Coordinator: Matthew Rockel
Production Coordinator (WA): Alison Kelly
Production Secretary: Daniel Fisch
Production Secretary (WA): Kylie Walchuk
Assistant To D. Lynch: Michael Barile
Production Assistant: Dana Marie Farley, Zachary Robert Craft, Chrissy Maroon
Production Assistant (WA): Brendan Griffin, Antonio Decossio
ACCOUNTING
Accountant: Beverly Rose Kubik
1st Assistant Accountant: Lenore Sena, Dana Michaelsen
1st Assistant Accountant / Payroll: Stephanie Cornick
2nd Assistant Accountant: Samantha Dabkey
Payroll Accountant: Jean Marc Madelon
Accounting Clerk: Lorene Sponsel
Accounting Clerk (WA): Alex Schulz
ART DEPARTMENT
Production Designer: Ruth De Jong
Art Director: Cara Brower
Set Designer: Nancy Deren, Scott Herbertson, Barbara Mesney
Graphic Designer: Jason Perrine, Karen Teneyck
Art Department Coordinator: Carolyn King
Art Department PA: Jake Cavallo, Keara Birmingham
Art Department PA (WA): Evelyn Weston
ASSISTANT DIRECTORS
1st Assistant Director: Scott Cameron *
2nd Assistant Director: Ime N. Etuk
2nd 2nd Assistant Director: Lori Ashfield
DGA Trainee: Mindy T. McKoin, Cody Gallo
Production Assistant: John Sclimenti *, Riley Lynch, Magdalene Serpa
Production Assistant (WA): David R.D. Goodman
Add'l Production Assistant: John Pullano
Add'l Production Assistant (WA): Haley Watson, Paul Dahlke, Micaela Colman
CAMERA
DP / A Camera Operator: Peter Deming
A Camera 1st Assistant: David Eubank
A Camera 2nd Assistant: Eric Amundsen
B Camera/Steadicam Operator: George Billinger, Soc
B Camera/Steadicam Operator (WA): Manolo Rojas
B Camera 1st Assistant: Lisa K. Ferguson, Steve Cueva, Tommy Klines *
B Camera 1st Assistant (WA): Steve Itano *
B Camera 2nd Assistant: Robin L. Bursey
C Camera 1st Assistant (WA): Bob Webeck
Loader: Brendan Devanie
Loader (WA): Alisa Tyrrill
DIT: Maninder "Indy" Saini
Digital Utility Technician (WA): Nick Kelling, Robyn Scaringi
Still Photographer: Suzanne Tenner
CASTING
Assoc. Producer / Casting Director: Johanna Ray *
Casting Director: Krista Husar
Location Casting (WA): Heidi Walker *
Catering
Catering: Bruce's Gourmet Catering
Chef: Maurice Sok
Assistant Chef: Edgar Gomez, Marcos E. Ramirez Ponce, Alfonso Pano, James Lilley, Andrew Demarest
Catering (WA): McGuffin Catering, Cameron Catering
Construction
Construction Coordinator: Karen D. Higgins
General Foreman: David Ott
Paint Supervisor: Jason Byers
Construction Buyer: Brian Tipton
Labor Foreman: John F. Karas
Toolman: Steve R. Valenzuela
Propmaker Foreman: Clete Cetrone, Neal Garland, Brett Mangiarelli, Chris Parkinson
Propmaker Foreman (WA): Alan Feffer
Propmaker: Alan C. Alvarado, Paula Burnett, Bill Cash, Chris Chichotka, Daniel C. Colegrove, Robert Espinoza, John David Harris, Mats Holmberg, Mike Kissick, Jose Miranda
Propmaker Welder (WA): Dan Laclergue (Danclerg)
Propmaker (WA): Nathan Rivers, Gary P. Barks, John Lammon
Labor Foreman: Ted Kerr
Labor Gang Boss: Ernesto Garcia
Labor: Paul Ruiz, Fred Valenzuela
Labor-Plaster HOD: Roy G. Decauwer
Paint Foreman: Dennis Murillo
Paint Foreman (WA): James Workman
Paint Gangboss: Jennifer Carruthers, Rafael Lopez, Robert Perez Jr.
Painter: Jimmy Garcia, Thomas Moffitt, George Picero, Richard Suarez, Michael Sweda, Kevin Valentine, Amy Wadworth, Bill Williams
Painter (WA): Ellen Lepinski, Lilly Kristin Frank, Jeff Ringer, Beth E. Peterson
Scenic Painter (WA): Steven Larose
Plaster Foreman: Ronald Savini
Welder Foreman: Mark Caplan
Welder: Bret Barrett
Standby Painter: Aaron Rodriguez
Utilty (WA): Matt Sage, Alex C.D. Chalk
Greens (WA): Nick Worsfold, William Chalk
Costumes
Costume Designer: Nancy Steiner
Costume Supervisor: Leslie Sungail, Sue Bub
Key Costumer: Tasha Goldthwait, Jennifer Starzyk, Mila Hermanovski
Set Costumer: Anita "Snoops" Brown, Lori D. Harris
Set Costumer (WA): Kimberlee Iblings
Costumer: Laura Wong
Costumer (WA): Frances Kenny, Gerard Parr, Linda Scott
Buyer: Adrienne Greshock
Seamstress/Ager-Dyer (WA): Ledawn King, Victoria Simons
Costume PA: Jenelle Kinney, Meredith Murphy, Valeria Barrera
Costume PA (WA): Aidan Vitti, Kristen Bonnalie
Craft Service
Craft Service Foreman: Curt L. Ayers
Craft Service: John Burns
Craft Service (WA): Justina Panther-Renaud
Add'l Craft Service: Curtis "Tug" Ayers
Craft Service Assistant (WA): Brian M. Gurnett
Editorial
Editor: Duwayne Dunham *, David Lynch
Additional Editor: Jonathan Shaw, Brian Berdan, ACE, Justin Krohn
Assistant Editor: Noriko Miyakawa, Mathias Hilger, Michelle Gold, Ken Ramos
Editorial PA: Angie Browne
Electric
Chief Lighting Technician: Michael Laviolette
Assistant Chief Lighting Technician: Eric Sandlin
Best Boy Electrician (WA): Jeremiah Skender
Dimmer Board Operator / Set Lighting Technician (WA): Chris "Chalky" Chalk
Set Lighting Technician: Dessie Coale, Lee Ramsey, Chris Andersen, Wesley Alley, Ken Sylvester
Set Lighting Technician (WA): David Ray Robinson, Travis Becker, Joey Feffer
Rigging Gaffer: Steve Kucharski, Steve Zvorsky
Rigging Electrician: Kevin Cadwallader, Norbert Quiban, Vince Manocchia, David Diamond
Extras Casting
Extras Casting Director: Christopher Gray
Extras Casting Assistant: Christopher Gonzalez
Extras Casting Director (WA): Denise Gibbs
Grip
Key Grip: Paul Wilkowsky
Best Boy Grip: Joe Guzman, Bruce Carothers
Best Boy Grip (WA): Keegan Larson
Dolly Grip: Tim Collins
Grip: William Clouter, Christopher Goe, David Gamble, Anthony Lockerman, Douglas L. Wall, Shaun Sangkarat, Bruce Letterman, Adam Camacho
Grip (WA): Donald Robert Stier, Mike Astle, Norman Tumolva, Niall James
Rigging Key Grip: Jayson Rury
Rigging Key Grip (WA): Gregory D. Smith
Best Boy Rigging Grip: Kevin Enright, Jr.
Best Boy Rigging Grip (WA): Jon Lafollette
Hair
Department Head Hair: Clare M. Corsick
Key Hair: Bryn E. Leetch
Additional Hairstylist: Sheryl Blum
Additional Hairstylist (WA): Akemi Hart
Locations
Location Manager: Eric Fierstein
Location Manager (WA): Dave Drummond
Key Assistant Location Manager: Philip Barnes, Andrew J. Areffi
Key Assistant Location Manager (WA): James E. Canavan
Assistant Location Manager: Christian A. Fechser, Susanne Medina
Location Assistant (WA): Niles Compau, Kevin Demunn, Zachary Bennett
Make-Up
Department Head Make-Up: Debbie Zoller
Key Make-Up: Richard Redlefsen
Additional Make-Up (WA): Eva Lohse
Make-Up Effects
Make-Up Effects: Carey Jones, Knb Efx Group Inc.
Additional Prosthetics: Debbie Zoller
Medic
Set Medic: Dan Harder
Supervising Medic: Chris Carrington
Medic Coordinator (WA): Ed Gorre
Medic: Nathan Bell, Evan Liss
Medic (WA): Lori Starke, Kris Hampton, Tyler Beahan, Kim Becerra, Fred Jaross, Desiree Ramirez, Erik Keyes, Ryan Murphy, Scott Ruijters, Scot Beahan, Adam Chamberlin, Matthew McSharry, Christopher Dideon
Property Department
Property Master: Mick Flowers
Assistant Property Master: Laura Sherrier, Drew Pinniger, Josh Ritcher
Assistant Property Master (WA): O.N. Lofgren
Prop Assistant: Claudio Vergara, Hunter Brown
Armorer: Tony Didio
Armorer (WA): Daniel Smith
Script
Script Supervisor: Cori Glazer *
Set Decoration
Set Decorator: Florencia Martin
Leadman: Thierry Labbe
Buyer: Allison Isenberg
Set Dresser: David L. Bush, Chris Hayes, Sean Smith, Glenn Strauss, R. Gregg Szabo Jr., Shane Valentine, Brenner Harris
Set Dresser (WA): Tania Kupczak, Aaron A. Fink, Damian Lund, Erin O. Kay
Draper: Jory Alvarado, Michael Garcia
On Set Dresser: Mike Malone *
SOUND
Sound Mixer: Douglas Axtell
Supervising Sound Editor: Dean Hurley
Boom Operator: Gunnar T. Walter
Sound Utility: Anna D. Wilborn, Steve Blazewick
Sound Utility (WA): Kelsey Wood
Special Effects
Special Effects Coordinator: Phil Bartko
Special Effects Supervisor: Gary D'amico
Special Effects Tech: Jay Bartus, Blair Foord, Chris Nelson, Ryan Dodd, Teizo May
Stand-Ins
Stand-In: Skip Buccola *, Ashley Siloac, Sean Michael Quezada, Tyler James Neuhengen, Leah Chapple
Studio Teacher
Studio Teacher: Josie Batorski
Studio Teacher (WA): Linda Bloom
Stunts
Stunt Coordinator : Mark Norby, Brian Duffy, Tad Griffith
Stunts: Koby Azarly, Helena Barrett, Richard Bucher, Darrell Davis, Courtney Farnsworth, Tait Fletcher, Kirsten Foe, Kiralee Hayashi, Cassidy Vick Hice, Michael Hilow, Casey O'Neill, Ryan Sturz, Trampas Thompson, Cody Thornbury, Kyle Weishaar.
Transportation
Transportation Coordinator: Dusty Saunders
Transportation Captain: Chad S. Moore, Steve Rawson
Transportation Captain (WA): Ronnie King
DOT: Steven Saunders
Picture Car Captain: Patrick Peña
Driver: Joe Auger, Hector M. Gonzalez, Heriberto Osorio, Jose Sanchez, Reese Lane, John "JJ" Jordan, Mary Fritts, Phil Balani, Mark J. Quinn, Martin Tajra, Mike Santana, Bryan Cawthon, Sammy Danielsen, Harold Bud Lacy, Mike Phillips, Jerry Shore, Glen Walker, Richard Vestal, Ric Wiley, Devon Moore, Randy Werner, Steve Deleon, Gary Watts
Lunchbox Driver: Justin Howard
Camera Car Driver: Byron Carter, Lyle Christensen
Water Truck Driver: Ricardo Sepulveda
Driver (WA): Jim Charleston, Robert Mair, David Anderson, Chester Sohn, Jeannie Mccarthy, Jimmy Hicks, Bill McCarthy, Diana Yarborough, Leslie Church, Rick Wiley, Grady Hughes, Ian Savage, Herman Esau.
VIDEO
Video Assist: R. Scott Lawrence
VISUAL EFFECTS
VFX: Pierre Buffin, Stephane Vogel, Robert Schajer, Coline Six, India Osborne, David Lynch *, Noriko Miyakawa