Hold your white horses!
Two pages of one of the most heavily NDA'd screenplays in television history have been (partly) revealed in a feature on David Lynch's sound engineer and season 3's music supervisor, Dean Hurley. Most of these pages have been shredded immediately after use, so they're extremely hard to come by.
UPDATE: These do not resemble the script pages that were given to cast members.
While Dean talks about working with his chief, Boiler Room's exclusive footage shows us quick glances at two different, interestingly watermarked script pages. One includes the scene with Becky and Steven Burnett in the sports car outside the Double R Diner, the other page has the scenes with the Woodsman entering Radio KJPK and reciting his famous poem. Let's have a closer look!
Twin Peaks Part 5 Script Page
What we hear in the final cut is just slightly different. Steven doesn't call Becky 'sweetheart' and goes on to say, "Hey, I saved some for you. Want a taste?"
Why? Why wouldn't I? For my interviews, you know how nervous I get. Come on. Besides, I got some great f***ing feedback today.

Twin Peaks Part 8 Script Page
It seems like Scene 238 with Girl 1956 (described in the script as a 13-year-old girl) got moved forward just a little in the final edit. Note that the sound of the receptionist's head being squeezed by the Woodsman is compared to that of an eggshell cracking.
The script has the more acceptable spelling of "Got a light?" as opposed to Part 8's official description on Showtime's website and DVD/Blu-ray release, Gotta Light.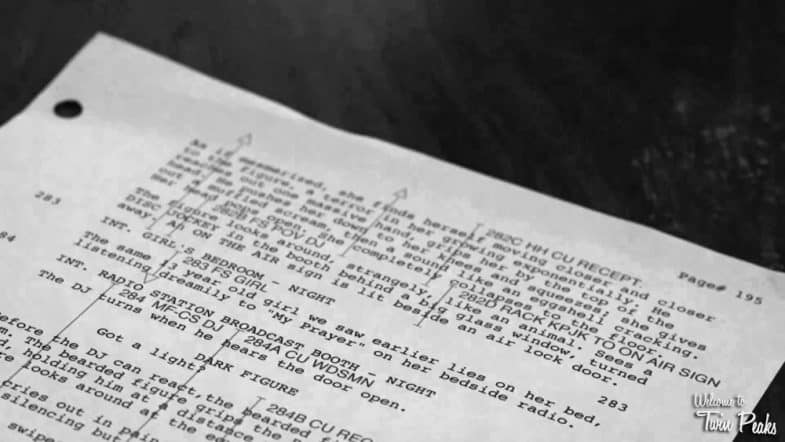 It also appears it was David Lynch and Mark Frost's intention to have the Woodsman produce more sounds than just the words.
The figure speaks disturbing, atonal word-like mechanical sounds into the mic, going out over the air in a strange monotone. At least part of what the dark figured woodsman speaks into the microphone:

This is the water and this is the well. Drink full and descend. The horse is the white of the eyes and dark within.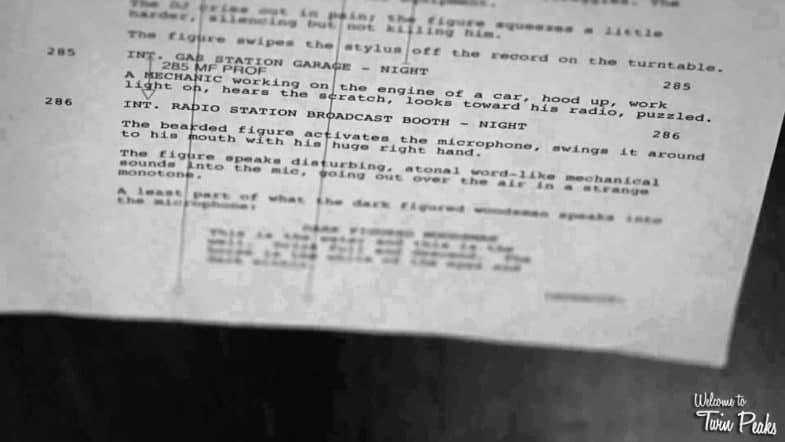 He Heard A Wind – Behind The Sound Design in Twin Peaks
Make sure to watch the video where the screenshots above where sourced from: Boiler Room's beautiful feature in support of the David Lynch Foundation and its upcoming Festival of Disruption.
Step into the mind of David Lynch and how he approaches sound in his work as told by frequent collaborator (on Inland Empire & Twin Peaks: The Return) and music supervisor Dean Hurley.
Hat tip to Brett Vickerman.