Twenty-five years ago today, the first-ever Twin Peaks Festival was in full swing in and around Snoqualmie, WA. The 3-day, studio-sponsored event was attended by thousands of fans and took place from August 14 through 16, 1992. It offered a plethora of events, including a Log (Lady) relay race, filming site tours, helicopter rides to Snoqualmie Falls, a raffle for Cooper's screen-used car, a dinner with the stars, a cherry pie eating contest, train rides, and even fire-walking! Not to mention a stellar line-up of special guests: Sheryl Lee, Catherine E. Coulson, Moira Kelly, Ray Wise, Al Strobel, and Jonathan Leppell.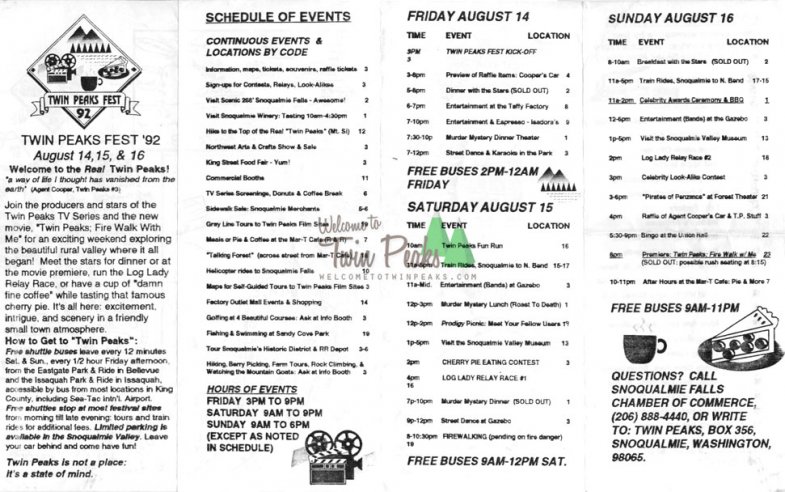 Sunday night, the official '92 fest culminated in a sneak preview of Twin Peaks: Fire Walk with Me at the North Bend Theatre, two weeks ahead of its North American premiere (August 28) and introduced by David Lynch himself. When the director was handed an award right before the screening, he told the audience he really appreciated it because "things were a little slow this year at the Cannes Film Festival."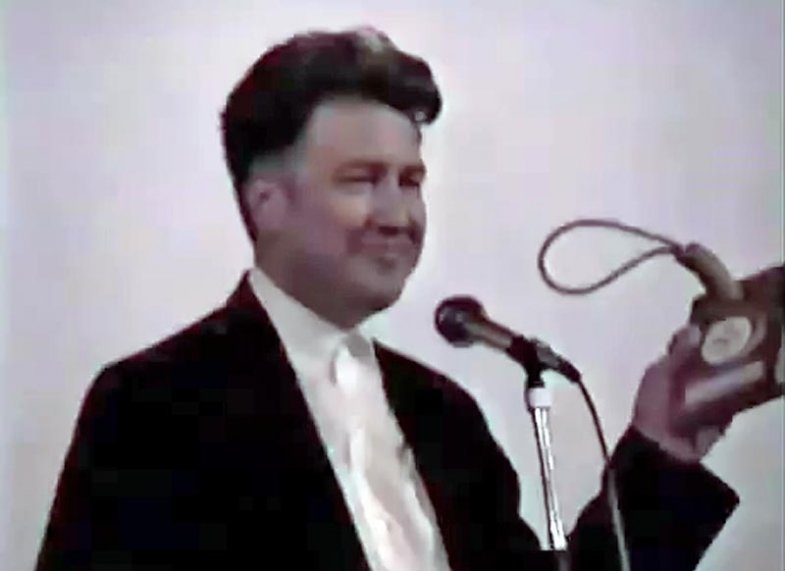 Thanks to torch-bearers such as Pat and Don Shook, the Twin Peaks Festival went on to become an annual fan-run event which is still going strong with hundreds of attendees. It really marked the first major Twin Peaks celebration and to this day, passionate fans around the world have never stopped celebrating. Fans will never stop and should never be stopped. As Dale Cooper tells Albert Rosenfield, Twin Peaks is "a way of life I thought has vanished from the earth." We can find it in all of us. So from the Pacific Northwest to the Land of the Rising Sun, and all year round, keep celebrating the world of Twin Peaks with anything from impromptu viewing parties to weekends full of secrets. Without the fans, Twin Peaks would NOT be back 25 years later. Our boundless, unfading passion kept the fire burning, and rest assured, it won't be smothered for a long, long time!
Twin Peaks Festival 1992 Videos