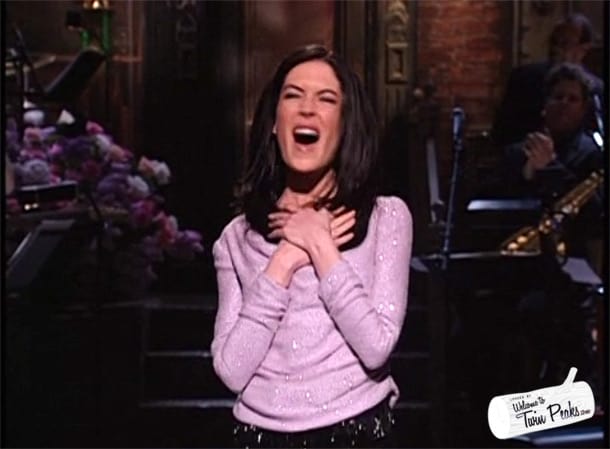 It wasn't her major breakthrough performance as Donna Hayward in Twin Peaks, but her role as Assistant District Attorney Helen Gamble in ABC's The Practice that got Lara Flynn Boyle invited to host Saturday Night Live's 19th episode of the 26th season on May 12, 2001. The then 31-year-old actress performed in sketches with upcoming comedy legends such as Jimmy Fallon and Will Ferrell, and hits back at the gossip about her weight in two of them.
Lara Flynn Boyle's monologue
Lara Flynn Boyle confronts a heckler (Adam McKay) who asks if "the fat lady" on The Practice has tried to eat her and about the size of Jack Nicholson's penis, then teases her about being skinny, so she proves what she ate.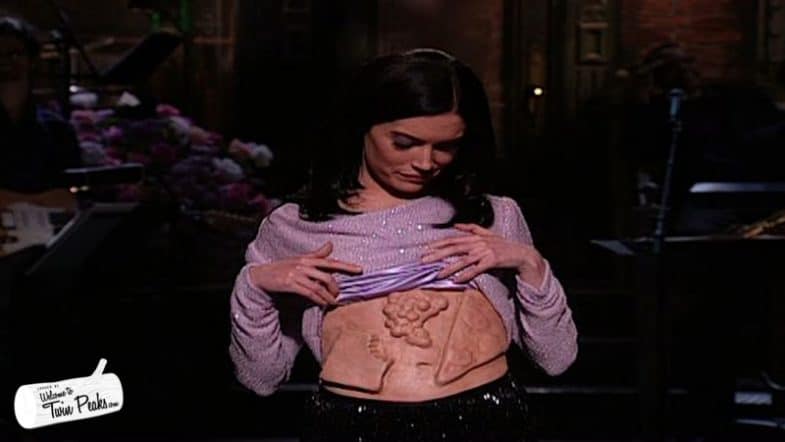 The Physical
A man (Chris Parnell) receives a hernia test from questionable doctors and nurses (Will Ferrell, Lara Flynn Boyle, Rachel Dratch) who turn out to be testicle fetishists.
Wake Up, Wakefield
A masculine physical education teacher (Lara Flynn Boyle) prepares Sheldon for the prom (with Rachel Dratch, Jimmy Fallon, Maya Rudolph, Horatio Sanz).
The Bloater Brothers At Shooters
Kip Bloder (Jimmy Fallon) and Wayne Bloder (Chris Parnell) flirt with a bartender at Shooters (Lara Flynn Boyle).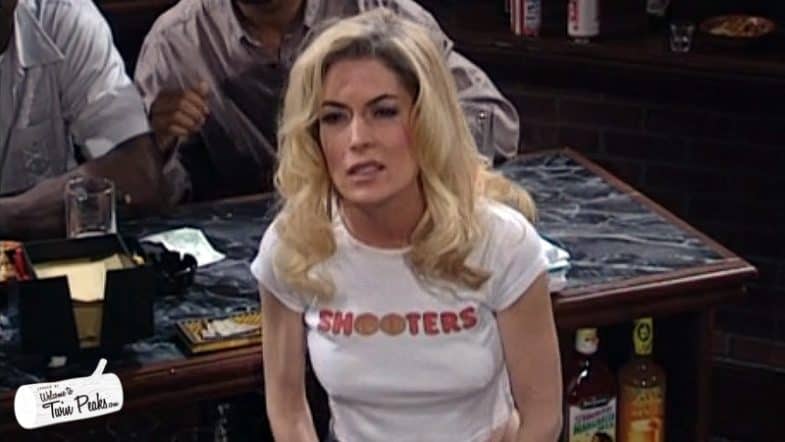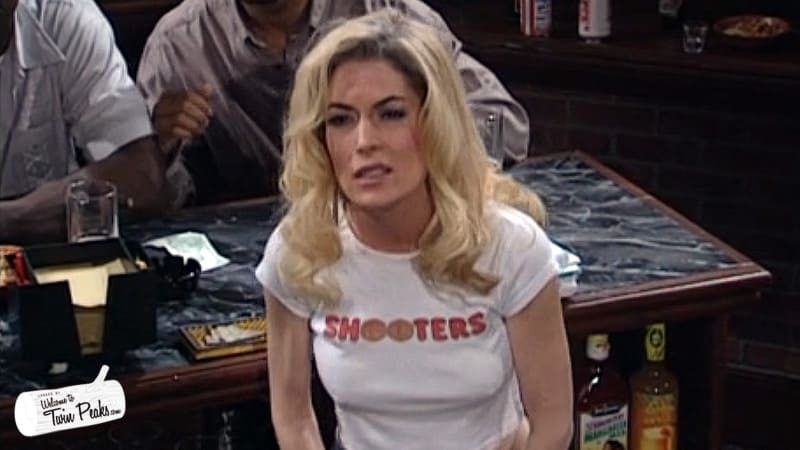 The following SNL sketches starring Lara Flynn Boyle were unavailable at the time of writing. If you find them somewhere, please share links in the comments!
Save The Starving Actresses Foundation: Lara Flynn Boyle urges viewers to help save the starving actresses of America.
Hi. I'm Lara Flynn Boyle, and I wanted to take a moment of your time to discuss a very important issue. For the last two years, I have devoted myself to a cause that has touched my life. It is a foundation called Save the Starving Actresses.. and we desperately need your help. For just the price of a cup of coffee, you can buy Courtney Cox.. a cup of coffee. And, believe me, it would be a wonderful start. For as little as seven cents a day, you can sponsor a starving actress.
The Scarlet Letter: Town elders aren't as quick to kick out a sinner with a sexual nature.
UPDATE: Added thanks to Boli!
MSNBC Investigates: The tragic outcome of teenagers impersonating the Golden Girls. Lara Flynn Boyle is reporter Norah O'Donnell.
Moulin Rouge: 70's pop music dominates the 19th century musical with Lara Flynn Boyle as Nicole Kidman and Jimmy Fallon as Ewan McGregor.