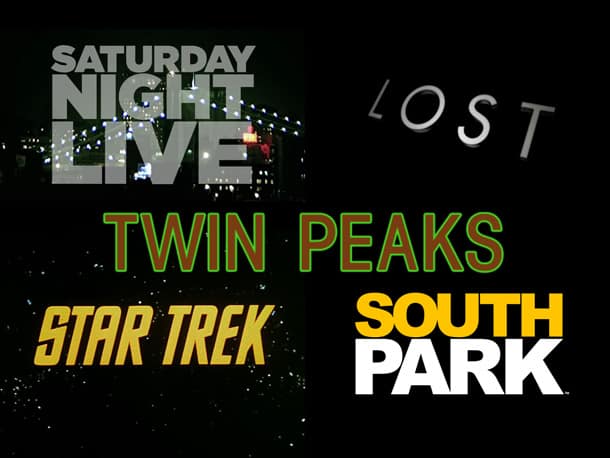 Twin Peaks has been nominated again for the annual Heritage Award by the Television Critics Association (TCA), a group of more than 200 journalists and columnists from the US and Canada covering television programming. It's the 5th consecutive year that the show is nominated in this category, which honors one long-standing program that has culturally or socially impacted society.
Twin Peaks previously lost to All In The Family, Cheers, M*A*S*H* and The Dick Van Dyke Show. Just like in past years, David Lynch and Mark Frost's show is up against Star Trek, Saturday Night Live, and Lost. New contender this year is South Park.
In addition to honoring the absolute best that this year's programming has to offer, the TCA Awards will also bestow a special Heritage Award trophy to one long-standing program that has had a major cultural or social impact. This year, the TCA members have nominated an impressive roster of some of TV's most memorable and groundbreaking series, featuring the Comedy Central classic "South Park"; mind-bending ABC series "Lost," the brainchild of J.J. Abrams; "Twin Peaks," created by visionary auteur David Lynch; NBC's comedy mainstay "Saturday Night Live"; and the sci-fi spectacular "Star Trek," which has continued to inspire fans and filmmakers since its debut in 1966.
The 30th Annual TCA Awards will be presented on Saturday, July 19 at the Beverly Hilton Hotel in Los Angeles, CA.
UPDATE: Saturday Night Live won the award. Next year?
What do you think? Is "25 years later" the year for Twin Peaks? Or will we have to wait for the official 25th anniversary of the show? And what are your expectations for the other categories? Check out the complete list of nominees below, with deservedly lots of love for True Detective.
Individual Achievement in Comedy
Louis C.K., "Louie" (FX) [2013 winner in category]
Mindy Kaling, "The Mindy Project" (Fox)
Julia Louis-Dreyfus, "Veep" (HBO)
Jim Parsons, "The Big Bang Theory" (CBS)
Amy Poehler, "Parks and Recreation" (NBC)
Individual Achievement in Drama
Bryan Cranston, "Breaking Bad" (AMC)
Julianna Margulies, "The Good Wife" (CBS)
Tatiana Maslany, "Orphan Black" (BBC America) [2013 winner in category]
Matthew McConaughey, "True Detective" (HBO)
Matthew Rhys, "The Americans" (FX)
Outstanding Achievement in News and Information
"CBS Sunday Morning" (CBS)
"Cosmos" (Fox)
"The Daily Show with Jon Stewart" (Comedy Central)
"Frontline" (PBS)
"60 Minutes" (CBS)
Outstanding Achievement in Reality Programming
"The Amazing Race" (CBS)
"RuPaul's Drag Race" (Logo)
"Shark Tank" (ABC) [2013 winner in category]
"Survivor" (CBS)
"The Voice" (NBC)
Outstanding Achievement in Youth Programming
"Adventure Time" (Cartoon Network)
"Daniel Tiger's Neighborhood" (PBS)
"The Fosters" (ABC Family)
"Sesame Street" (PBS)
"Switched at Birth" (ABC Family)
Outstanding New Program
"Brooklyn Nine-Nine" (Fox)
"Fargo" (FX)
"Orange Is the New Black" (Netflix)
"Sleepy Hollow" (Fox)
"True Detective" (HBO)
Outstanding Achievement in Movies, Miniseries and Specials
"American Horror Story: Coven" (FX)
"Broadchurch" (BBC America)
"Fargo" (FX)
"The Returned" (SundanceTV)
"True Detective" (HBO)
Outstanding Achievement in Drama
"The Americans" (FX)
"Breaking Bad" (AMC)
"Game of Thrones" (HBO) [2013 winner in category]
"House of Cards" (Netflix)
"The Good Wife" (CBS)
Outstanding Achievement in Comedy
"The Big Bang Theory" (CBS) [2013 winner in category – tied with "Parks and Recreation"]
"Brooklyn Nine-Nine" (Fox)
"Louie" (FX)
"The Mindy Project" (Fox)
"Veep" (HBO)
Career Achievement Award
Mark Burnett
James Burrows
Valerie Harper
Jay Leno
William Shatner
Heritage Award
"Lost" (ABC)
"Saturday Night Live" (NBC)
"South Park" (Comedy Central)
"Star Trek" (NBC)
"Twin Peaks" (ABC)
Program of the Year
"Breaking Bad" (AMC) [2013 winner in category]
"Game of Thrones" (HBO)
"The Good Wife" (CBS)
"Orange Is the New Black" (Netflix)
"True Detective" (HBO)