Twin Peaks has been nominated for the Heritage Award 2013 by the Television Critics Association (TCA), a group of approximately 200 journalists and columnists from the US and Canada covering television programming. If this news rings a bell, that's because the show was nominated last year too. And in 2011. And in 2010. The Heritage Award honors one long-standing program that has culturally or socially impacted society.
Twin Peaks previously lost to Cheers, M*A*S*H* and The Dick Van Dyke Show. This year, just like in 2012, it is up against Lost, Saturday Night Live and Star Trek. All In The Family is the new contender.
The 29th TCA Awards take place on August 3, 2013.
What do you think? Is 2013 the year for Twin Peaks? And who else do you think will win? Check out the nominees in other categories below.
UPDATE (August 2013): The 2013 Heritage Award winner is "All In The Family". Maybe Twin Peaks will win "25 years later"?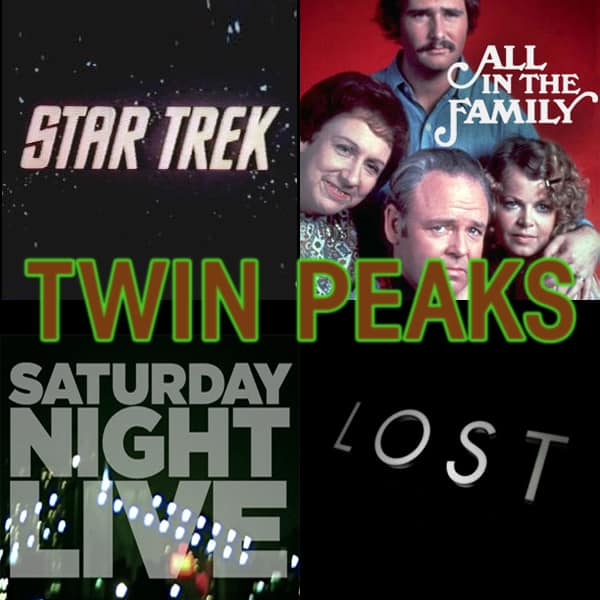 Here's the complete list of 2013 nominees:
Individual Achievement in Comedy
Louis C.K., "Louie" (FX)
Lena Dunham, "Girls" (HBO)
Jake Johnson, "New Girl" (Fox)
Julia Louis-Dreyfus, "Veep" (HBO)
Amy Poehler, "Parks and Recreation" (NBC)
Individual Achievement in Drama
Bryan Cranston, "Breaking Bad" (AMC)
Vera Farmiga, "Bates Motel" (A&E)
Tatiana Maslany, "Orphan Black" (BBC America)
Monica Potter, "Parenthood" (NBC)
Matthew Rhys, "The Americans" (FX)
News and Information
"Anderson Cooper 360." CNN
"Central Park Five," PBS
"The Daily Show with Jon Stewart," Comedy Central
"The Rachel Maddow Show," MSNBC
"60 Minutes," CBS
Reality
"The Amazing Race," CBS
"The Glee Project," Oxygen
"Shark Tank," ABC
"Survivor," CBS
"The Voice," NBC
Outstanding Achievement in Youth Programming
"Adventure Time," Cartoon Network
"Bunheads," ABC Family
"Daniel Tiger's Neighborhood," PBS
"Sesame Street," PBS
"Switched at Birth," ABC Family
Outstanding New Program
"The Americans," FX
"Elementary," CBS
"House of Cards," Netflix
"The Mindy Project," Fox
"Orphan Black," BBC America
Outstanding Achievement in Movies, Miniseries and Specials
"American Horror Story: Asylum," FX
"Behind the Candelabra," HBO
"Downton Abbey," PBS
"Rectify," Sundance Channel
"Top of the Lake," Sundance Channel
Outstanding Achievement in Drama
"The Americans," FX
"Breaking Bad," AMC
"Game of Thrones," HBO
"Homeland," Showtime
"Mad Men," AMC
Outstanding Achievement in Comedy
"The Big Bang Theory," CBS
"Louie," FX
"New Girl," Fox
"Park and Recreation," NBC
"Veep," HBO
Career Achievement Award
James L. Brooks
James Burrows
Jay Leno
William Shatner
Barbara Walters
Heritage Award
"All In the Family," CBS
"Lost," ABC
Saturday Night Live," NBC
"Star Trek," NBC
"Twin Peaks," ABC
Program of the Year
"The Americans," FX
"Breaking Bad," AMC
"Game of Thrones," HBO
"House of Cards," Netflix
"The Walking Dead," AMC