Trees… Good girl with secrets… The Pacific Northwest?
No, the cable network that brought you Mad Men and Breaking Bad is not airing a Twin Peaks remake, but there are an awful lot of similarities between The Killing and the Laura Palmer story. Including the tagline.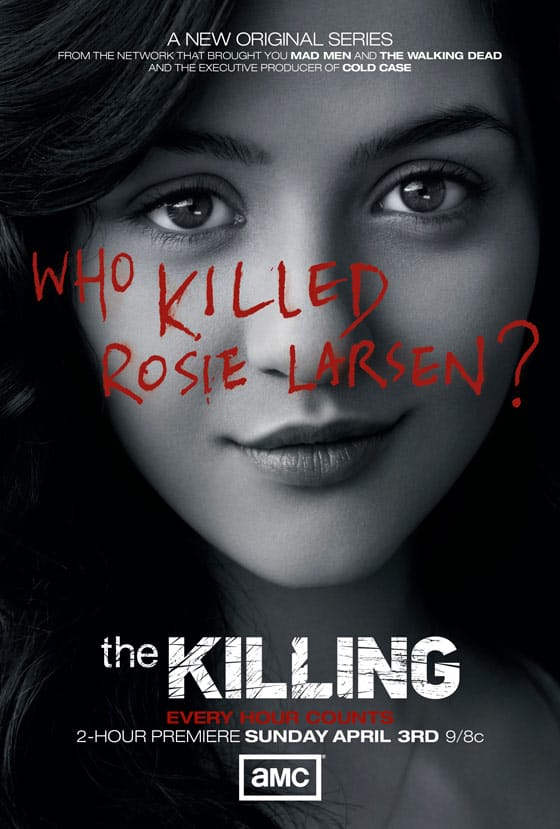 AMC's The Killing is based on a hugely successful Danish series called Forbrydelsen, and stars Mireille Enos (Big Love) as "Sarah Linden," the lead homicide detective that investigates the death of Rosie Larsen; Billy Campbell (Once and Again) as "Darren Richmond," Seattle's City Council President and now running for Mayor; Joel Kinnaman (Snabba Cash) as "Stephen Holder," an ex-narc cop who joins the homicide division in the investigation to find Rosie's killer; Michelle Forbes (True Blood) as Rosie's mother, "Mitch Larsen;" and Brent Sexton (W., In the Valley of Elah) as Rosie's father, "Stan Larsen." The pilot is directed by Patty Jenkins (Monster).
Some promising previews:
http://www.youtube.com/watch?v=k6Sf4ULlh2c
http://www.youtube.com/watch?v=tv_mdIF-4f4
The Killing begins on Sunday, April 3 at 9 p.m… on AMC. We'll be watching.