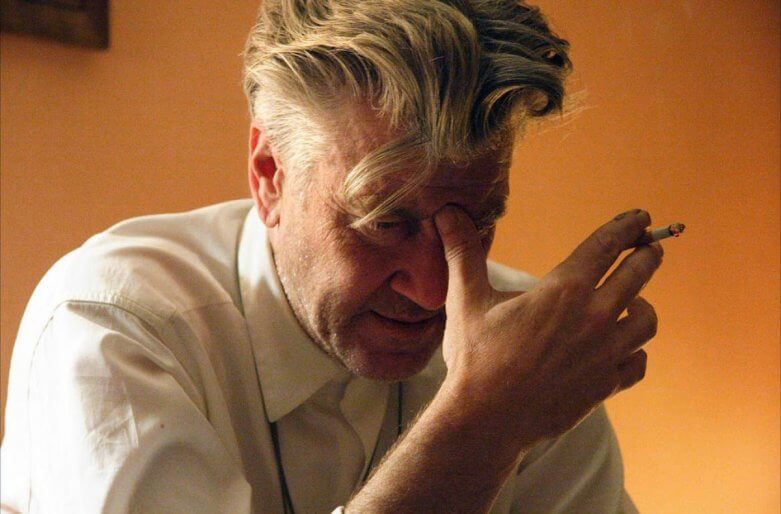 Showtime execs David Nevins and Gery Levine today at the TCA Summer Press Tour 2016 still could not announce exactly when the new Twin Peaks series will air —they're aiming for second quarter of 2017— or how many episodes David Lynch and Mark Frost will actually produce. In fact, at their first meeting with Showtime, the creators did not present completed scripts but thick binders full of notes and ideas on what happened the past 25 years. The actual number of episodes is still shifting while David Lynch is deep into editing with longtime collaborator Duwayne Dunham.
The execs are expecting to see edited footage soon, but watching just some of the dailies, they were both "instantly transported." They added they can't wait to show it to the world.
What they did show to the press was B-roll filmed in Washington state mixed with behind the scenes interviews with some of the cast members, including Kyle MacLachlan, Miguel Ferrer, Dana Ashbrook, Harry Goaz, Jim Belushi, Kimmy Robertson, James Marshall, and Robert Knepper. We can't wait until Showtime publishes this video online, so keep your eyes peeled and watch this space!
To conclude, some interesting tweets from the #TCA16 event.
Production on Twin Peaks is complete, David Lynch is deep in editing, and…we're getting footage!!! #TCA16 @Showtime

— The TCA (@OfficialTCA) August 11, 2016
#Showtime bosses on #TwinPeaks: We were instantly transported. The tone, the feel, it is so singular. We can't wait to show it to the world.

— Debra Birnbaum (@debrabirnbaum) August 11, 2016
"There's a freshness to it, a lightness to it," Kyle MacLachlan says of new Twin Peaks, and that's about all we get of new Twin Peaks #TCA16

— Caroline Darya Framke (@carolineframke) August 11, 2016
Just saw some Twin Peaks footage @Showtime's #TCA16 panel that confirmed there will be MOUNTAINS and a WATERFALL

— Vinnie Mancuso (@VinnieMancuso1) August 11, 2016
Showtime is aiming to put 'Twin Peaks' on the air next year, in the first quarter. No word yet on how many episodes it will be.

— Robert Bianco (@BiancoRobert) August 11, 2016
"In watching a little bit of dailies of #TwinPeaks, we were both instantly transported." – Showtime exec Gary Levine #TCA16

— Andrea Reiher (@andrea_reiher) August 11, 2016
Gary Levine on #TwinPeaks; it's so singular – we can't wait to show it to the world. #TCA16

— Diane Gordon (@thesurfreport) August 11, 2016
David Lynch didn't originally give Showtime Twin Peaks episodes, but binders and binders of things they'd thought about for 25 years. #TCA16

— Caroline Darya Framke (@carolineframke) August 11, 2016
#TwinPeaks video had bit on set (Sheriff's Department sign looks the same!) and cast (including MacLachlan, Ashbrook, Ferrer) talking #TCA16

— Eric Goldman (@TheEricGoldman) August 11, 2016