May is Twin Peaks month.
*M*A*Y*D*A*Y*
UPDATE: Twin Peaks has an official premiere date and time! May 21, 2017 at 9 PM ET/PT!
At least according to Showtime's promotional wall calendar for 2017 which was sent out to cable companies yesterday. Flip over to May and as the month's featured image, you'll see Snoqualmie Falls and the Salish Lodge —or White Tail Falls and The Great Northern hotel as they're known to the residents of Twin Peaks.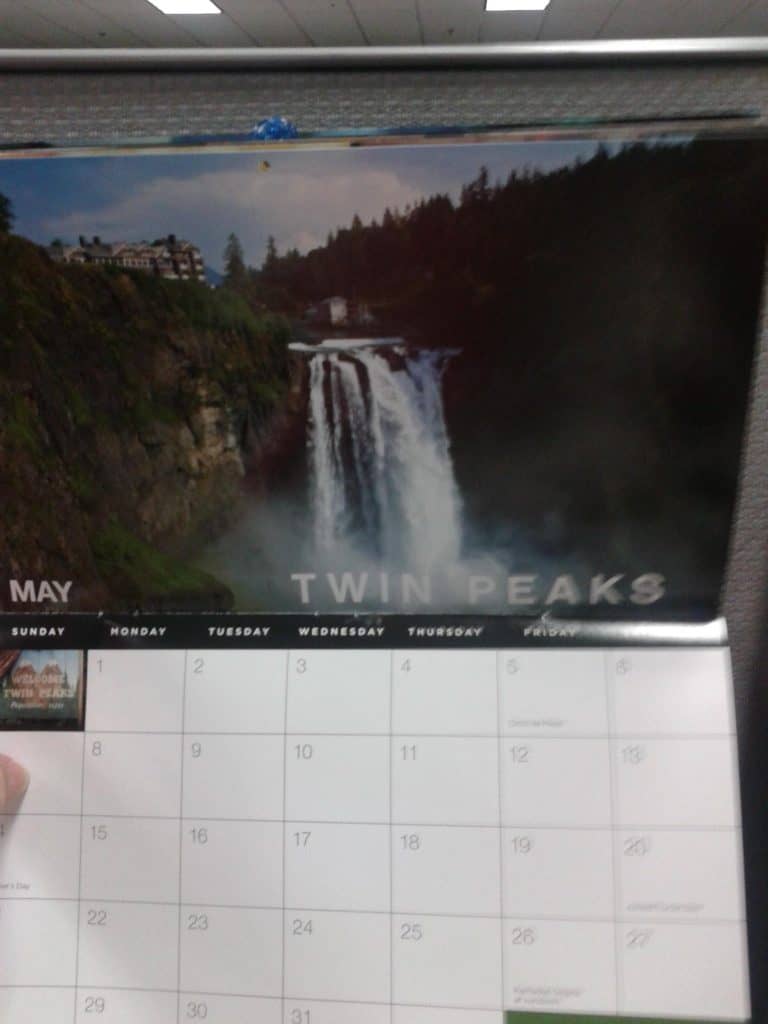 But more strikingly, the calendar page's very first square, SUNDAY, APRIL 30th, 2017, is populated with the Welcome to Twin Peaks sign as seen in one of the early teasers. That day makes sense as a premiere date, with Twin Peaks taking over Homeland's slot when its 6th season wraps by the end of April.
While this is merely another indicator the new series will be airing around May, an official premiere date is expected to be announced in a few days at Showtime's TCA Winter Press Tour event on January 9th. A rumor suggests there will also be some kind of Twin Peaks event at the 2017 Sundance Film Festival (January 19-29). Looks like the show's promotional campaign is finally shifting into second gear. Are you ready?
UPDATE: Mark Frost on Twitter denied that any screenings of the new Twin Peaks are happening at Sundance. However, he did not comment on the suggested premiere date.
Just to quash a silly rumor going around: Twin Peaks is NOT, repeat, NOT going to be shown at Sundance this year.

— Mark Frost (@mfrost11) January 3, 2017
HAPPY 2017!
THIS IS THE YEAR.#NEWTWINPEAKS pic.twitter.com/a6DIm4A687

— Welcome to Twin Peaks (@ThatsOurWaldo) December 31, 2016