Wait!
Didn't Dana Ashbrook already assure Sherilyn Fenn's involvement in the new Twin Peaks back in 2014?
[bctt tweet=""I talked to David. We're going back to Twin Peaks. We're gonna have some fun!" —Sherilyn Fenn (in a text to Dana Ashbrook) https://welcometotwinpeaks.com/news/sheryl-lee-dana-ashbrook-twin-peaks-2016/" via="no"]
True. But a lot has happened since, including various ambiguous and disquieting tweets from the actress in 2015. Here's just one of them.
@RDudle ???

— sherilynfenn (@sherilynfenn1) October 23, 2015
Today Audrey Horne fans —and aren't we all?— can stop worrying, because the actress delightfully confirmed Deadline's report on her return by tweeting it… and adding three signature cherry emoji.
— sherilynfenn (@sherilynfenn1) January 8, 2016
Hester Prynne-style!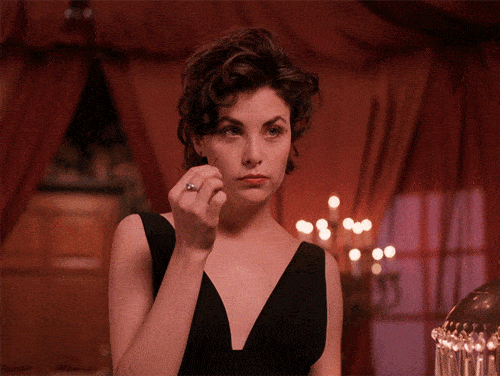 With Twin Peaks roughly halfway through production, it is still possible that Audrey Horne will be a major character.
The actress in December wrapped her part in at least five episodes of another Showtime series, Shameless, as Frank's (former?) love interest, Queen.
The man !!!!!!! Simply….one of the best??? I have loved working on this show??? pic.twitter.com/X2qVHmRdAr

— sherilynfenn (@sherilynfenn1) December 15, 2015