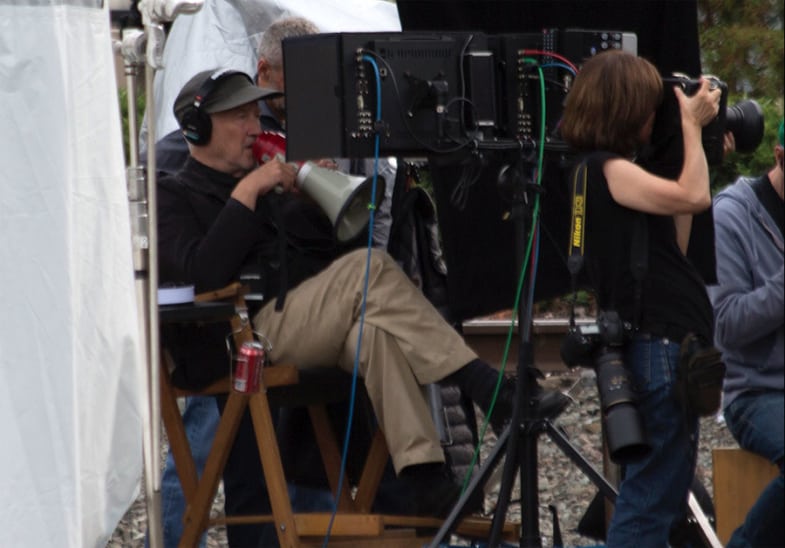 With Thanksgiving around the corner, the Twin Peaks production team decided to send out some thank-yous.
Jump straight to the last page of this week's SnoValley Star, North Bend and Snoqualmie's own newspaper, and you'll find the cast and crew of Twin Peaks expressing their thankfulness to a long list of local businesses, organizations and institutions because of their hospitality and support during the first phase of production in September and October. After approximately five weeks of filming in Washington state, principal photography has since moved to California, but rumors say they may return to the Pacific Northwest early 2016.
The full-page newspaper ad includes the following message on top of, eh, let's just say a rather minimal rendition of Mt. Si:
To our "Twin Peaks" friends,
We cannot thank all the Valley communities enough for your gracious hospitality and support.
You made our return to "Twin Peaks" a once – make that twice-in-a-lifetime peak experience.
From all of the cast and crew at "Twin Peaks" to all of you…
Thank you!
SPOILER ALERT: The following potentially reveals some familiar filming locations.
Among those specifically recognized are several filming locations from the original series, including Twede's Cafe (the Double R Diner), Dirtfish Rally School (the Sheriff's Department), Fall City Roadhouse (Bang Bang Bar aka the Roadhouse), Ollalie State Park (Deer Meadow Sheriff's Station and several other scenes), Mt. Si Motel (the Blue -or Red- Diamond Motel), and the Salish Lodge (the Great Northern Hotel).
Other acknowledged businesses include shops frequented by the prop department, a church, the North Bend mayor's Dairy Freeze, a trailer park and, no surprise here, a number of coffee shops.
Are you local and did you run into production? Please share your (spoiler-free) stories in the comments!
Here's the complete thank you message: