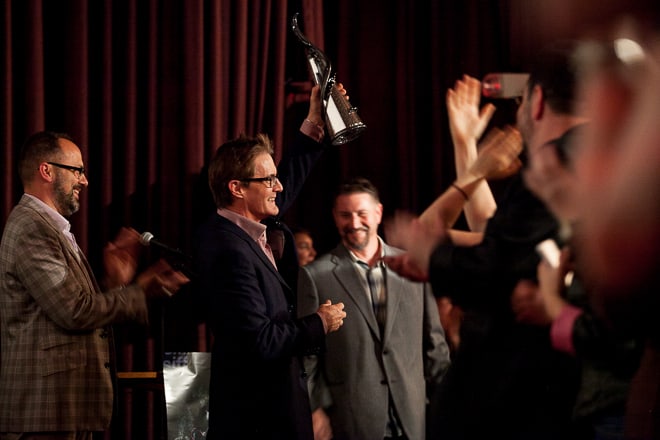 This video by Cinebanter shows several highlights of the evening with Kyle MacLachlan on June 3 2013 at the 39th Annual Seattle International Film Festival (SIFF), where the actor was honored with the Outstanding Achievement in Acting Award. Topics include the swimming pool scene in Showgirls, his mom's opinion on the Blue Velvet script, Dale Cooper's hair, turning down a role in Platoon, the wig he wore in The Doors, and of course, Twin Peaks and the Twin Peaks spoof on Saturday Night Live*.
Kyle MacLachlan Q&A At SIFF 2013
Twin Peaks Spoof on Saturday Night Live
*If you've never seen the Twin Peaks parody on SNL, which originally aired on September 29, 1990, check it out below! It was co-written by David Spade and Rob Schneider and stars Kevin Nealon as Sheriff Truman, Chris Farley as Leo Johnson, Victoria Jackson as Audrey Horne, Jan Hooks as Nadine Hurley and The Log Lady, Phil Hartman as Leland Palmer, Mike Myers as The Man From Another Place and a young Conan O'Brien as Deputy Andy Brennan.
Want to hear Kyle MacLachlan talk more and specifically about Twin Peaks? Check out this video from the Q&A at the USC Twin Peaks Series Retrospective.