Q2 has done it. He completed Northwest Passage, his highly anticipated feature film edit of the Twin Peaks television series. By focusing merely on the Laura Palmer story and leaving other subplots on the cutting room floor, he was able to reduce the 2-season runtime from 980 minutes to 300. All killer, no filler!
That's five hours of Twin Peaks from a different, less Lynchian but nevertheless interesting perspective. On the other hand, it also means next-to-door-zero Evelyn Marsh and Little Nicky! For those who haven't seen Twin Peaks yet (unlikely if you're reading this blog, but still) we recommend watching the show in its entirety first before watching this cut. If you have seen the show a few times already, Q2's creative transitions and his ability to delay the revealing of the killer will surely surprise you.
I felt it needed to focus just on Laura's murder and all other stories need to be reduced or eliminated. By doing this many characters are either never introduced or have limited screen time. This may anger some fans, but in creating a "feature film" (or extended feature film, I suppose) sacrifices had to be made. But that's why we still have the original source material to go back; to revisit a town like Twin Peaks uncensored, as originally intended by the creators.

(…)

Simply, if there was a sub-plot that wasn't needed for the Laura Palmer story it was axed. I'm sure for the purist this is blasphemy, but I urge those people to use their imagination and pretend "Twin Peaks" the series never existed. Virtually all scenes with Catherine Martell, Audrey Horne, Shelly Johnson, and Josie Packard have been removed. The scene where the killer is revealed has been tweaked extending the mystery until the end. Some footage from the final "Twin Peaks" episode has been incorporated.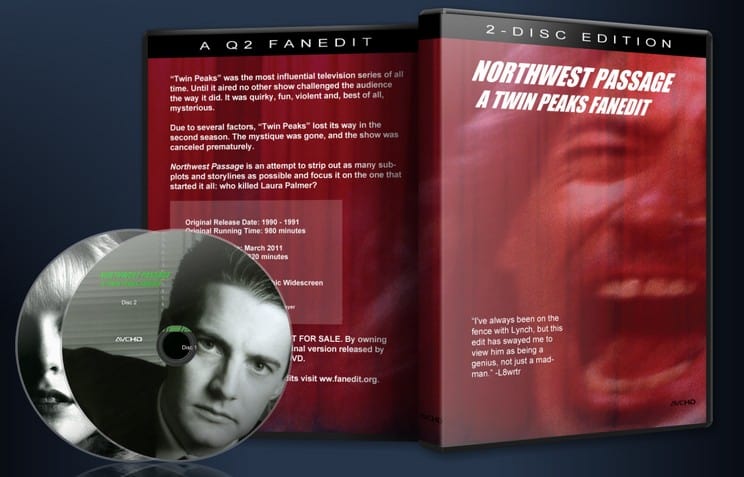 To download the Northwest Passage fanedit (a few gigabytes of data, mind you), you have to download the URL container of your choice from fanedit.info. Look for the red colored DVD cover and choose your preferred format from the links underneath (AVCHD DVD9, SL DVD5 NTSC or MP4).
Extract the URL container from the just downloaded zip file and open it with JDownloader. Now hit the Play button to start downloading the files from MegaUpload. If you don't have a premium account, this could easily take half a day to complete.
UPDATE: The entire edit made it to YouTube in two parts.
https://www.youtube.com/watch?v=9YHSFrK1nzM
https://www.youtube.com/watch?v=ww57YTjGA6Y
UPDATE #2: You can download the video file in different formats (including 720p MP4) here.
UPDATE #3: Check the comments for the latest download instructions and/or links.
» Visit the fanedit's release page.
» Watch the teaser again.