Ever wondered what exactly was going on in that fascinating picture of Michael J. Anderson on the hood of a Chevy that has "Let's rock" written all over it?
Thanks to the Northwest Passage crew, Welcome to Twin Peaks is pleased to premiere the video footage of this surreal moment! Back their doc on Kickstarter if you haven't yet.
Shot by Mark Lyons at the 1994 Twin Peaks Festival, the video takes us back to the Colonial Inn in Fall City which doubled as the exterior of the Roadhouse. Inside, the celebrity banquet is going on with Catherine E. Coulson, Al Strobel and other cast members (check out the cameo of the log!). Out in the parking lot, Michael J. Anderson and some fans come across said car with the Man From Another Place's famous opening line. Next thing you know, Mike gets on the hood and starts doing the dance of the dream man like only he can.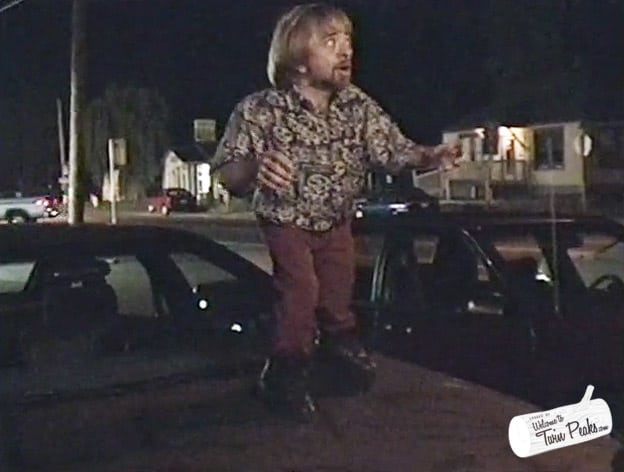 Northwest Passage: Clip 2 – At the Roadhouse with Little Mike, The Log Lady and more (1994)
https://vimeo.com/129102939
Northwest Passage Clip 3: The Man From Another Place (1995)
Welcome to Twin Peaks received another rare and exclusive clip from the Northwest Passage crew, showing Travis Blue and Michael J. Anderson walking to his room at the Salish Lodge & Spa (the Great Northern hotel's exteriors) to grab some t-shirts to sell at the festival.
https://vimeo.com/129125149
Reminder: Support Northwest Passage Today!
With less than two days left, the documentary about the Laura Palmer-inspired youth of Twin Peaks "superfan" Travis Blue still needs your support. Pledge today!