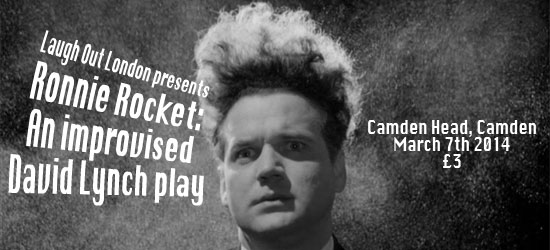 "It'll be odd, it'll be surreal, and it'll probably be real creepy, as weirdo comics perform a David Lynch-style film, all made up on the spot."
—Time Out London
I've already seen an entirely improvised third season of Twin Peaks and it was pretty strange, but here's an upcoming improv show I expect to get really weird really fast.  Laugh Out London comedy club is doing an improvised play loosely based on David Lynch's unfinished film project, Ronnie Rocket. Here's your chance to see it finished before your very eyes, as a seasoned group of improvisers and comedy weirdos will "attempt to recreate the wonder, surrealism, terror, confusion and eccentricity of a David Lynch movie live on stage" while taking suggestions from even bigger weirdos in the audience. Yes, I'm looking at you.
Performers are Adam Larter, Ali Brice, Stuart Laws, Matt Highton, Gareth Morinan, Beth Vyse, Lindsay Sharman, Tessa Waters and Lee Kern. Wish I could have sent them directed by David Lynch t-shirts before the show on Friday, but it's too late for that.
Date: Friday, March 7, 2014 (8PM)
Location: The Camden Head, 100 Camden High St, London NW1 0LU, United Kingdom.
Tickets: £3.30 here.