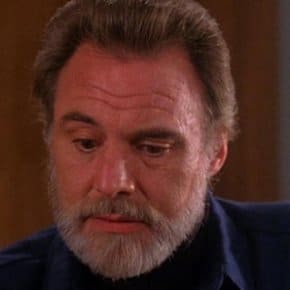 If you're attending the second edition of the Twin Peaks UK Festival in the United Kingdom, then bring some cash for new shoes because our favorite shoe salesman, Phillip "Mike" Gerard aka The One-Armed Man, is travelling to West London on November 26th 2011!
Retired actor Al Strobel, who was originally planted in the pilot as a single reference to The Fugitive, is best known for delivering the hair-raising "Fire Walk With Me" speech that became one of Twin Peaks' most recited quotes, and turned him into a regular character on the show. Attendees of the Twin Peaks festival are likely to witness him reciting it once again… and in real life!
Al Strobel about Twin Peaks: Fire Walk With Me
Al Strobel about a deleted scene from TP:FWWM
Al will join Kimmy "Lucy" Robertson as one of the celebrity guests at the UK fest.
» Get your Twin Peaks UK Festival 2011 ticket here (only 4 VIP tickets left at the time of writing, but plenty of regular tickets).
» Check out all the videos from last year's Twin Peaks UK Festival.
Location:
Riverside Studios
Crisp Road
Hammersmith
W6 9RL
West London, UK