Mark Frost's second Twin Peaks novel, Twin Peaks: The Final Dossier, debuted at the number 4 spot on the famous New York Times Best Sellers list for hardcover fiction this week. It made it to the 8th spot on the combined print and e-book fiction list. Nielsen Bookscan reports 18,242 copies sold in its first week after release. A year ago, the preceding novel, The Secret History of Twin Peaks, snagged the #6 spot in its release week before disappearing from the list.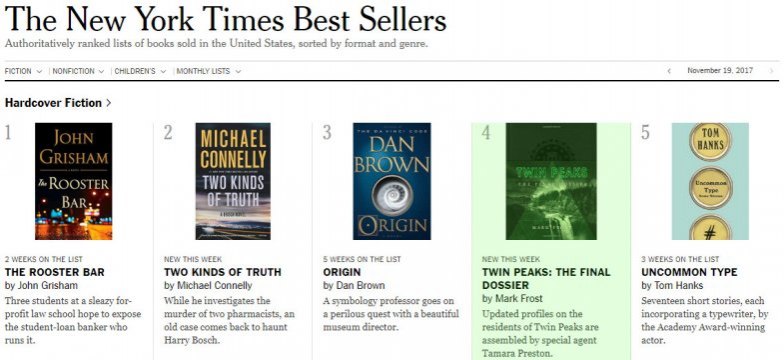 "Thanks Peaksters," the author responded to the news on Twitter, using a term of endearment TP fans don't hear that often. "Spread the word," he added. Hence this post.
Thanks Peaksters – The Final Dossier debuts at #4 on the NYT Bestseller list! Spread the word. #TwinPeaks2017 https://t.co/S5kB6g8g0U

— Mark Frost (@mfrost11) November 10, 2017
The audiobook narrated by Annie Wersching made it into the top 10 on Apple's iTunes store and currently ranks 2nd on Audible's Arts & Entertainment list. If you've never tried Amazon's service before before, you can download the excellent audio version for free by signing up for a free Audible trial.
Twin Peaks: The Final Dossier is available as a hardcover through Amazon US, Spain, Japan, France and Germany, or Book Depository with free worldwide delivery.
Have you read or listened to the book? Then please share your thoughts! In-depth discussion of its contents are encouraged on the forum.