The City of Snoqualmie has installed a permanent Welcome to Twin Peaks town sign at approximately 41471 SE Reinig Rd in Snoqualmie, WA, which is the backroad where David Lynch planted a similar fictional sign back in February 1989 to shoot Dale Cooper's entrance into the town. Little did the original sign painter know his work would become an iconic piece of television history, and the inspiration for a permanent tribute 28 years later.
Unless they were in town around the same time as the Twin Peaks Festival, when Richard and Barbara Koefod usually and temporarily put up their own recreation of the sign, Twin Peaks fans visiting Snoqualmie had to imagine it, bring a print-out or their own portable version.
Starting yesterday, in celebration of the city's involvement in the return, the official filming location has been clearly marked with the artwork of Sally Rackets, who's with the Snoqualmie Arts Commission and the Art Gallery of SnoValley. I'm sure the owls are watching over it, but let's hope it will last forever.
UPDATE (6/22): The sign is currently undergoing repairs after being damaged.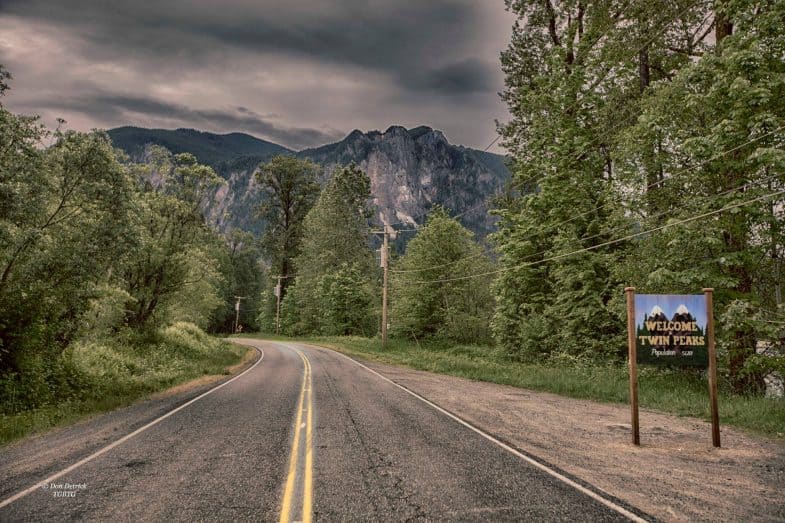 Not too far from the town sign, the DirtFish Rally School also has a treat for fans visiting the filming location for the Twin Peaks Sheriff's Department.
Back to #TwinPeaks in 52 days. https://t.co/wZnzivnAHd pic.twitter.com/1TGztSd3Or

— Welcome to Twin Peaks (@ThatsOurWaldo) March 30, 2017
Now if only Twede's Cafe would add the "RR" neon panel to their outdoor signage…