Not unlike Leland Palmer jumping onto his daughter's coffin in Episode 3, Shelly Johnson Briggs jumped on the hood of her car in Part 11 in an effort to prevent her frantic daughter, Becky, from driving off (on a mission to kill her husband, Steven Burnett).
Shelly failed to stop Becky. But she failed spectacularly with her red high heels flying through the air as the RR waitress brutally slides off the hood. You would think David Lynch intentionally added an element of humor to a dramatic scene, as he often does, but in reality, it was, in fact, another "happy accident."
Welcome to Twin Peaks asked Kirsten Foe, Mädchen Amick's stunt double in the car surfing scene, how it all came together. The behind the scenes photos and the video of Mädchen Amick executing the first part of the stunt were kindly provided by Brittyn Lindsey, who witnessed the shoot on September 19, 2015, in North Bend, WA.
(If you have any photos or videos of Rancho Rosa Productions shooting Twin Peaks in either WA or CA and would like to share them, please reach out!)
Hello, Kirsten! Were you a fan of the original Twin Peaks?
Kirsten Foe: I was a huge fan of the original series; the world of Twin Peaks has always held a magical appeal for me. That said, being able to work on this was an absolute dream come true.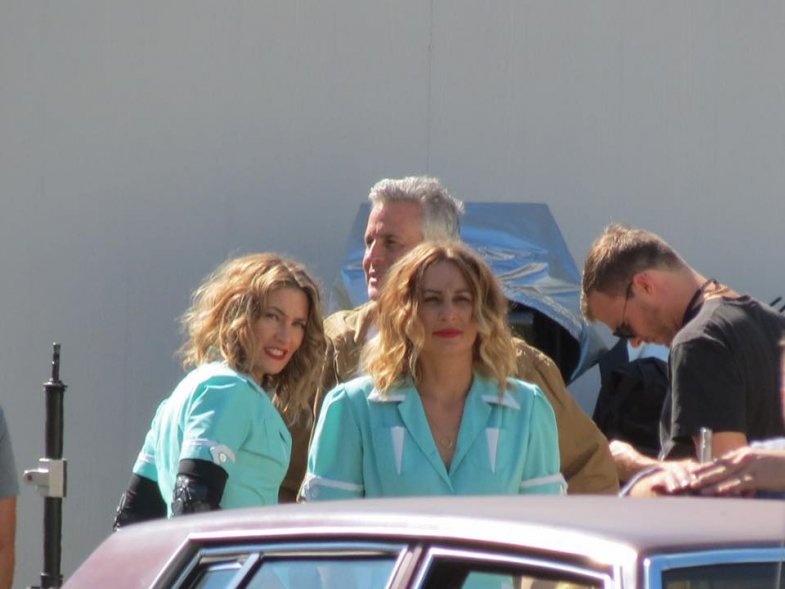 So you must have been really excited to be directed by David Lynch?
KF: Quite often working with our idols can be a disappointing experience, as they are, of course, mere mortals like us. David Lynch was a big exception to this. He was as otherworldly as I hoped, but mixed in with the quirky coolness was a quiet, creative zen.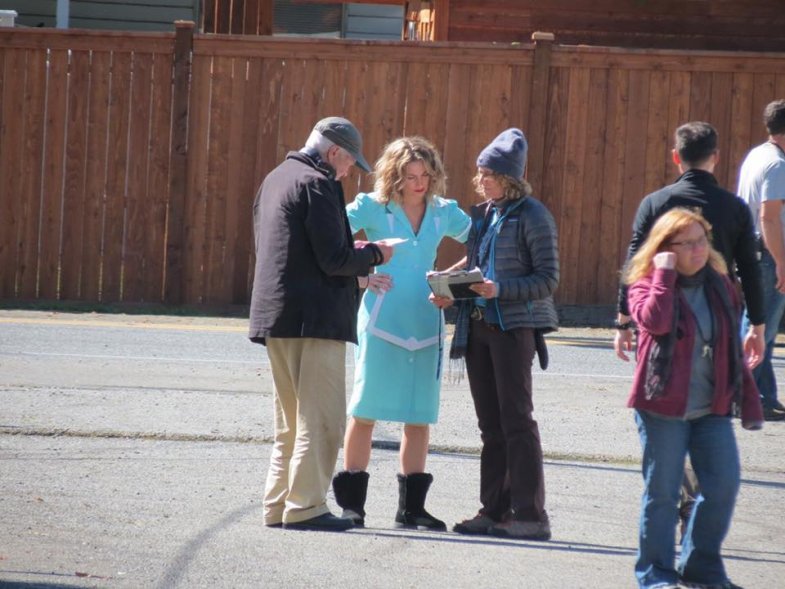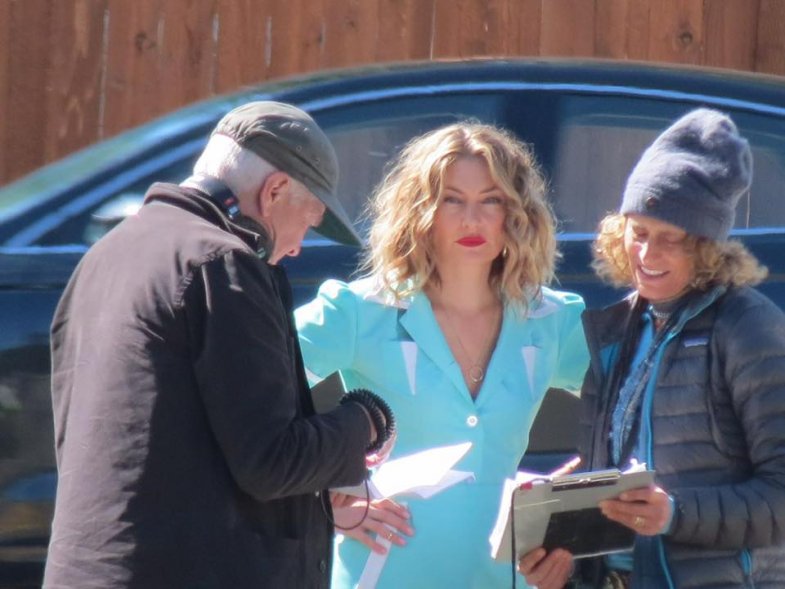 How was the vibe on the set?
KF: Mädchen Amick and Amanda Seyfried were wonderful to work with. They were heavily involved with filming the stunt and when it was complete David gathered the cast and crew, and the actresses both thanked me and Helena Barrett (Amanda's double) for our work, giving us a big round of applause. That level of appreciation doesn't always happen for the stunt team, and it certainly felt great.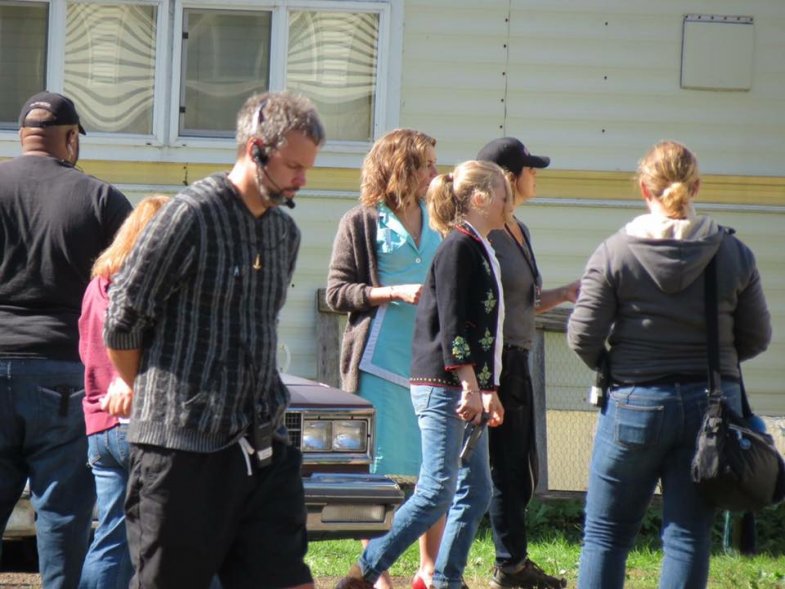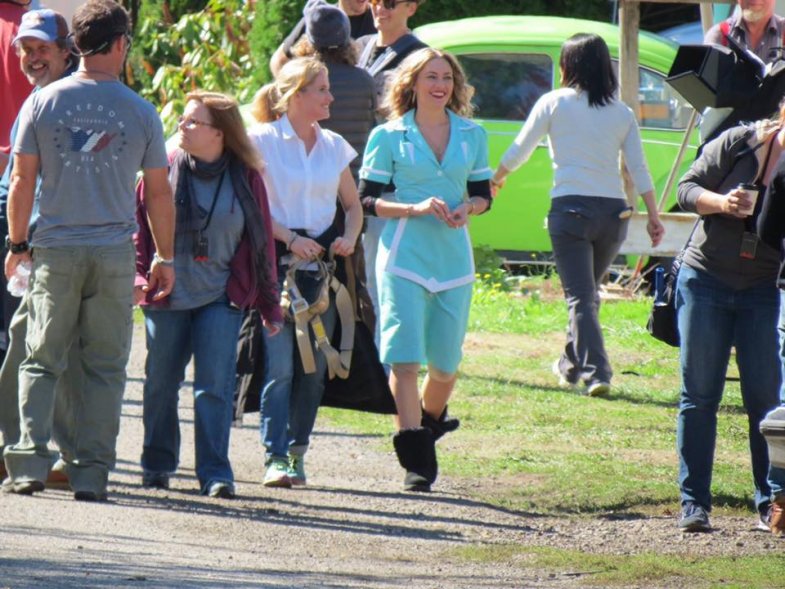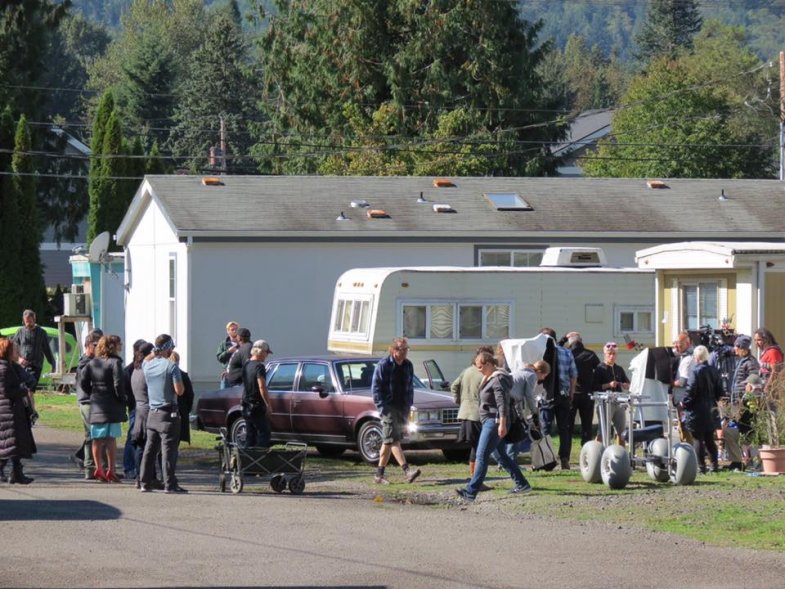 Let's dive into the stunt…
KF: The stunt itself went off without a hitch. The stunt coordinator, Mark Norby, is one of the best in the business and we had top rigger Darell "D-Squared" Davis keeping us safe. Helena is an experienced driver and I trusted her completely which was crucial for the stunt. I had a small window of time to let go of the car to make sure the framing was correct and I didn't land in a dangerous spot.
For safety reasons, we don't rehearse the full stunt, just the pieces. Helena practiced her driving her line, while I visualized the moment I would need to let go. When they called action everything worked perfectly thanks to good direction and teamwork.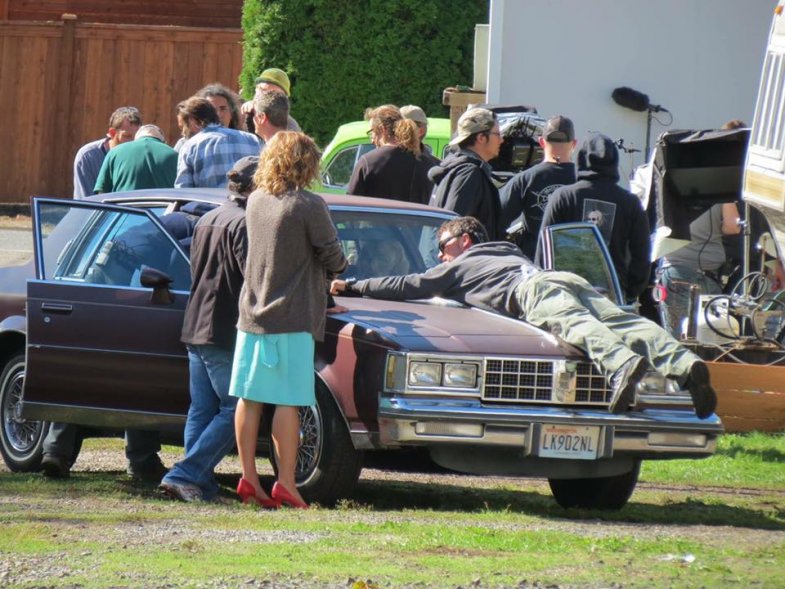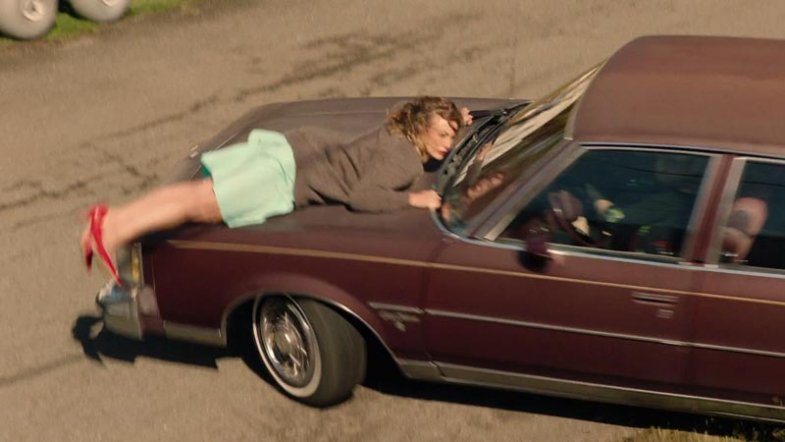 The shoes were an excellent finishing touch!
KF: Shelly was wearing some crazy red heels, so I did the stunt in those same red heels. When I put the shoes on I noticed they were a little large for my feet. I mentioned this to a member of the wardrobe team and they offered to tape them to my feet. After some consideration, I declined and said I was confident I could keep them on my feet.
On the first take, I flew off the hood of the car, red high heels akimbo, and when I landed my first thought was, "Oh no, the shoes". I honestly thought I had messed up the take. They yelled cut, David came over immediately, and… He was thrilled! He loved that the shoes flew off, and actually thanked me for making it happen. I asked if they would like me to go again and beaming he said, "Why would we? That was perfect".
I'll never forget that moment, standing barefoot in my Double R Diner uniform in the Fat Trout trailer park, shaking hands with a true creative genius.
Talk about happy accidents! Thanks for your time, Kirsten!