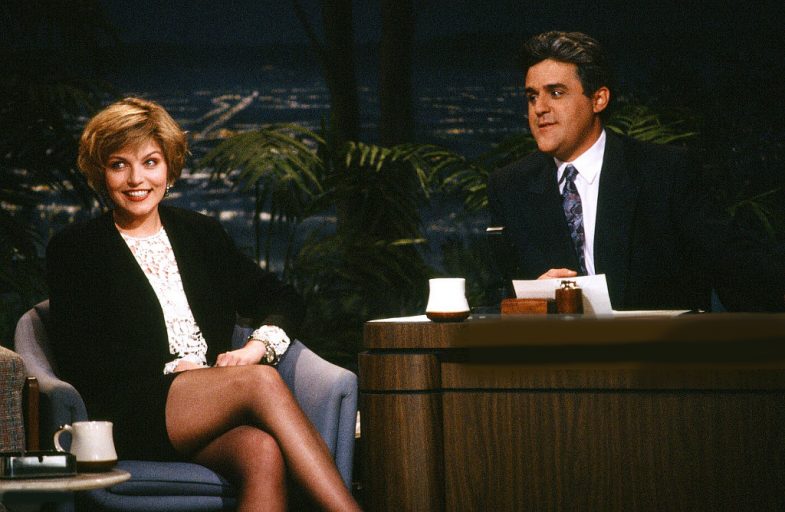 "It's nice to meet you after seeing you dead on television so much!"
—Jay Leno
In February 1991, while the second season of Twin Peaks was in full swing, Sheryl Lee came on as a guest on the Tonight Show Starring Johnny Carson, guest hosted by the late-night talk show's future host Jay Leno. They talk about Twin Peaks, Wild at Heart and Love, Lies and Murder, in which she starred with Twin Peaks: Fire Walk with Me co-star Moira Kelly. A video of her appearance appeared on YouTube upon request just a few days ago. Thanks to Mitch and Tamara for sharing it!
[David Lynch] said: "I want you to play this corpse. I'm gonna wrap you in plastic and dip you in the water, and it's gonna be really cold." And I said something really stupid, like "I'm from Colorado, so I can deal with the cold."
The 23-year-old actress then goes into detail about the filming of her scenes as a dead Laura Palmer, wrapped in plastic on the rocky beach.
It was a day and a half to shoot that scene. (…) It was about 38 degrees and I was taped completely from my legs all the way up around my body, so the crew had to carry me from the beach back up to the lodge any time I had to do anything. (…) They were feeding me through a straw. (…) It was full body, blue-grey-greenish with a little bit of yellow I think… just for color.
When Jay Leno asks her how she found out who killed her, she describes unexpectedly being called into David Lynch's furniture-free office.
I found out who killed me when I shot my second murder scene. (…) That day I went to work and I had no idea that I was gonna get killed again.
Watch the video below for the complete 6-minute interview.
Sheryl Lee on The Tonight Show (February 11, 1991)
https://www.youtube.com/watch?v=ct9QechFjVM&feature=youtu.be