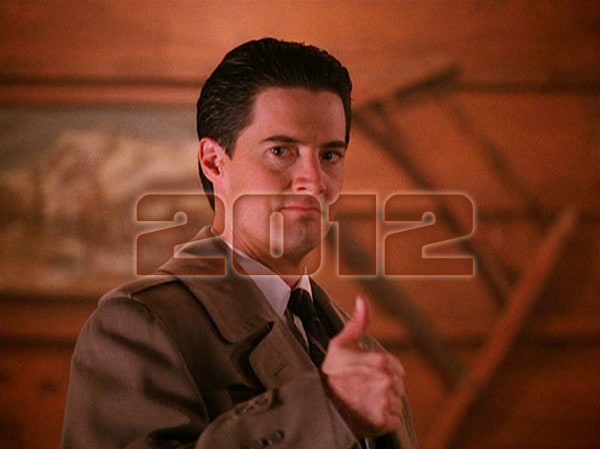 Remember when I told you 2011 was a damn fine year for Twin Peaks fans?
Honestly, 2012 was even better. I'll give you 12 reasons:

The 20th anniversary of Twin Peaks: Fire Walk With Me was celebrated by fans and in movie theaters around the world, including but not limited to London, Stockholm, Santa Monica, Boston, Los Angeles, Austin, Singapore, Chile and New York City. Seriously, there were more Twin Peaks events than we could shake a log at.

For the first time in its existence, the original, fan-run Twin Peaks Fest sold out. And it was a fantastic fest too! Is Twin Peaks more popular than ever? Better grab your tickets for the next fest as soon as they go on sale (February 1st, 2013).

Mark Frost published The Paladin Prophecy: Book 1, a great book for the young adult market. And with its storytelling comparable to that of Twin Peaks, it certainly appeals to the not-so-young adult market as well.

The iTunes store in the U.S. is the first and still only source for Twin Peaks in 1080p high definition. Sure, it's a bit pricey, but the exceptional video quality beats any other format hands down, including the DVD set and Netflix! So instead of waiting for the Blu-ray edition (if that ever gets released), get Twin Peaks season 1 and season 2 in full HD today.

Out of Pittsburgh, PA, a David Lynch and Angelo Badalamenti tribute band emerged called Silencio. Their live act takes you front stage of the Roadhouse and their debut album is the perfect soundtrack for a yet unreleased David Lynch movie. Watch this band blow up in 2013.

Mark Frost hinted at a possible release of the deleted scenes from Twin Peaks: Fire Walk With Me. Rumor or not, statements like these keep our hope alive!

Special Agent Dale Cooper was sighted in New York, NY. And we have photo proof.

The presence of Killer BOB was sensed in Brooklyn, NY. And we have photo proof.

Twin Peaks continued to inspire fashion, television, art, machinima, music and music videos, etc. And there's no reason to believe its ongoing influence will stop any time soon.

Beloved Twin Peaks actors, like Ray Wise, Mädchen Amick, Michael Ontkean and Dana Ashbrook, popped up in movies and television shows. But the biggest surprise was David Lynch's cameo on Louie. Pure comedy gold!

Our minds were blown a few times, especially when we learned that Steven Spielberg wanted to direct a Twin Peaks episode and that actor Eric DaRe (yes, Leo Johnson) was briefly suspected of arson.

The David Lynch Music Company wraps up the wonderful Twin Peaks Archive. Can you believe we now have access to 212 Twin Peaks tracks that nobody ever expected to hear?
Sadly, 2012 was also the year Craig Miller, editor of Twin Peaks fan magazine Wrapped in Plastic, passed away. May he rest in peace.
Allow me to conclude this year's recap with the prophetic words of The Log Lady: "When this kind of fire starts, it is very hard to put out." Thanks to everyone who contributed to keeping the fire alive and I'll see you in the trees. I'll see you in 2013!