In another "twin tweet", Twin Peaks co-creators David Lynch and Mark Frost today confirmed what Kyle MacLachlan suggested a few months ago: the return of Dale Cooper —or maybe just his doppelgänger?— in the new series of Twin Peaks coming to Showtime next year. David Lynch's tweet was accompanied by a brand new photo of the actor holding a cup of presumably damn good coffee.
"I'm very excited to return to the strange and wonderful world of 'Twin Peaks'. May the forest be with you."
—Kyle MacLachlan today at the Television Critics Association 2015 Winter Press Tour
This is the first official confirmation of the 2016 cast, but a handful of original cast members have already publicly announced their involvement, including Sheryl Lee, Dana Ashbrook and Catherine E. Coulson.
UPDATE: According to reports, the Twin Peaks theme suddenly started playing as Kyle MacLachlan —holding a coffee mug— joined Showtime boss David Nevins on stage at the TCA event. "You look like you need a damn fine cup of coffee," the actor said in character. "He'll be leading the show, and there'll be more cast coming on as we roll through," David announced. He later revealed that production on Twin Peaks will begin midway through this year at multiple locations, likely including the series' original Pacific Northwest home.
Stay tuned for more!
David Lynch's tweet:
Welcome back to #TwinPeaks Special Agent Dale Cooper! @Kyle_MacLachlan returns in '16 on @SHO_Network #damnfinecoffee pic.twitter.com/vTphDLvR0y

— David Lynch (@DAVID_LYNCH) January 12, 2015
And Mark Frost's twin tweet:
Welcome back to #TwinPeaks Special Agent Dale Cooper! @Kyle_MacLachlan returns in '16 on @SHO_Network #damnfinecoffee

— Mark Frost (@mfrost11) January 12, 2015
Here are some of your reactions to today's "damn fine" news:
"Kyle MacLachlan OFFICIALLY Confirmed For Twin Peaks 2016" has me doing the HAPPY DANCE!!! Thanks, @ThatsOurWaldo 🙂

— Your pal, Bryan JL Glass (@BJLG) January 12, 2015
https://twitter.com/PhotoBooth_dbh/status/554775046795694081
@ThatsOurWaldo Hurrah! I can smell those Douglas Firs already ??

— Fiona REGISTERTOVOTE Meanwell ? (@FionaMeanwell) January 12, 2015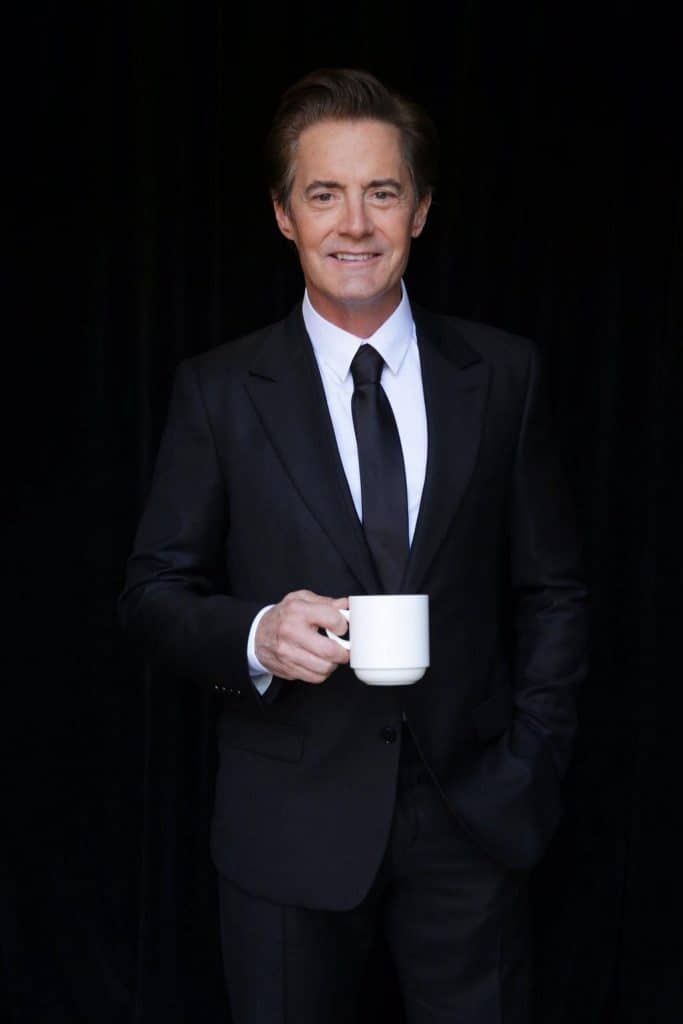 #Showtime Networks' president David Nevins & @Kyle_MacLachlan enjoying some #damnfinecoffee #TwinPeaks #TCA15 pic.twitter.com/zxvjxIXcVf

— SHOWTIME (@Showtime) January 12, 2015