"I was in Blue Velvet and got cut out," Megan Mullally wrote in the caption alongside an Instagram photo of her deep kissing Kyle MacLachlan in David Lynch's 1986 feature film. The actress best known for her role as Karen Walker in Will & Grace then continues to confess she has "zero memory" of playing one of Jeffrey Beaumont's three girlfriends, Louise Wertham, "even though I'd never kissed anyone on camera before and Kyle McLaughlin [sic] was cute."
This scene covers just one minute out of 53 minutes of deleted scenes from Blue Velvet, previously included on the 25th anniversary Blu-ray (Amazon) but now part of the many special features on the David Lynch-supervised Criterion release (Amazon) out on Blu-ray and DVD on May 28, 2019.
In a comment on her Instagram post, Kyle responded "We'll always have Lumberton" as a reference to Humphrey Bogart's famous line from Casablanca, replacing Paris with the name of the logging town where Blue Velvet's story takes place.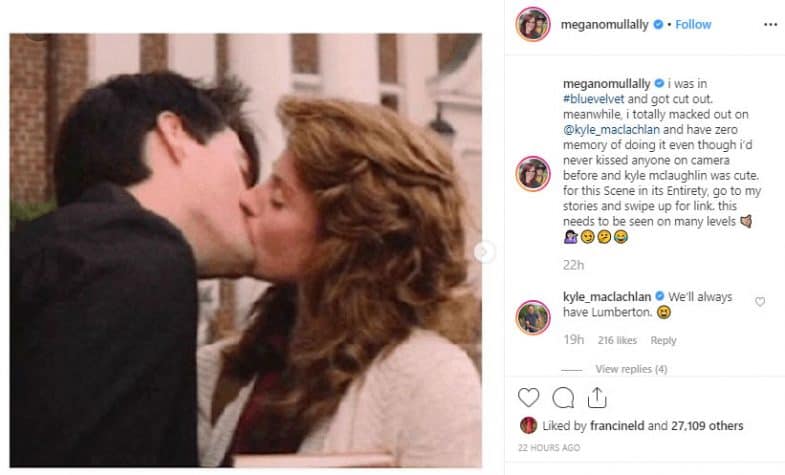 The actress also shared a link to her deleted scene which, as she wrote, "needs to be seen on many levels."
Hat tip to Francine D!
Blue Velvet out on Criterion (Release: May 28, 2019)
David Lynch-approved special edition features include:
New 4K digital restoration, with 5.1 surround DTS-HD Master Audio soundtrack on the Blu-ray, both supervised by director David Lynch
Alternate original 2.0 surround sound­track
The Lost Footage, fifty-three minutes of deleted scenes and alternate takes assembled by Lynch
"Blue Velvet" Revisited, a feature-length meditation on the making of the movie by Peter Braatz, filmed on-set during the production
Mysteries of Love, a seventy-minute documentary from 2002 on the making of the film
Interview from 2017 with composer Angelo Badalamenti
It's a Strange World: The Filming of "Blue Velvet," a 2019 documentary featuring interviews with crew members and visits to the shooting locations
Lynch reading from Room to Dream, a 2018 book he coauthored with Kristine McKenna
PLUS: Excerpts by McKenna from Room to Dream
Pre-order now from Amazon.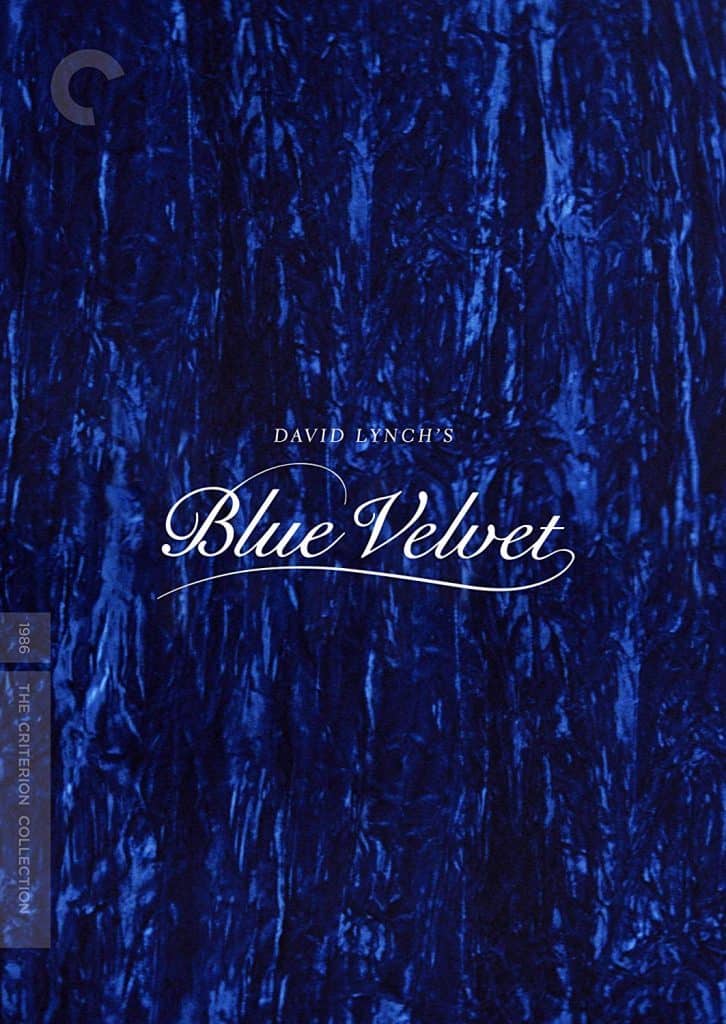 JEFFREY
Can't you come to the damn airport?

LOUISE
Jeffrey. I can't. I really can't. I
have to go to that class tonight. I can't
get out of it. I really can't. I love
you, Jeffrey. I'll miss you.

JEFFREY
Alright. I'll call you in a couple of days,
you know. I'll let you know how things are.

LOUISE
Okay. I'll be here. You better git-going. I
gotta go too sweetie. I hope your father's 
okay. I love you. I'm sorry, Jeffrey.

JEFFREY
I love you too, Louise. Damn it. I'll see you.