About a year ago, one of our readers picked up this miniature Dale Cooper figure with damn fine accessories from eBay. Today, another one of a kind, custom made Dale Cooper figurine is being auctioned.
Seller Joel Robinson makes custom figures all the time "and Dale needed the treatment," he tells Welcome to Twin Peaks. This "Mini Cooper" was built up on a Hot Toys TrueType figure body, which means it can take about any natural pose. Looking impeccable as always, the 12″ Cooper sports a typical black suit with a functioning tie leather-like belt with a metal buckle and true-to-life boots.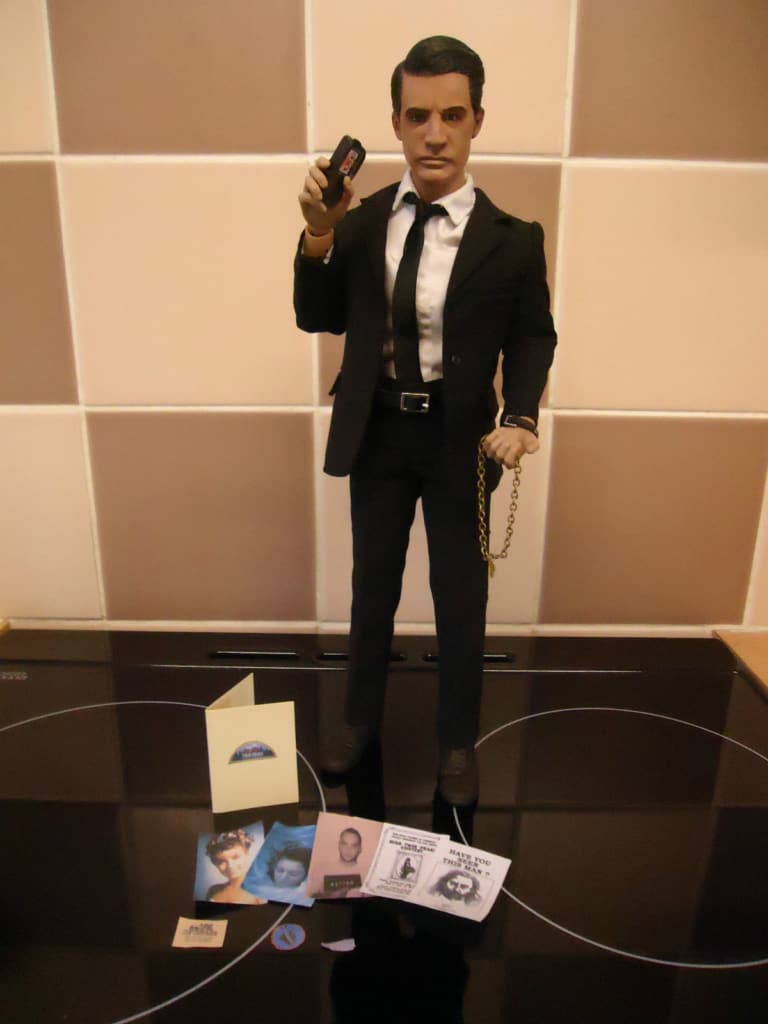 Take note of the very realistic hands that will perfectly hold an array of bonus accessories, including the FBI Special Agent's legendary tape recorder (100% show accurate), Laura Palmer's half heart necklace, a Bookhouse Boys patch, the torn "Fire Walk with Me" piece of paper, a Twin Peaks Sheriff's Department case folder, Leo Johnson's mugshot, Laura Palmer's homecoming queen and wrapped in plastic photos, the Miss Twin Peaks beauty pageant and 'Have You Seen This Man?' posters.
The auction for this 1/6 scale Special Agent Dale Cooper figure ends December 7th and there's already one bid.
Now to find a matching Audrey Horne or Annie Blackburn Barbie doll…