As promised back in 2014, David Lynch has revealed nothing about the plot of the new Twin Peaks so far. Except for one thing: that the story of Laura Palmer's last seven days —as detailed in Twin Peaks: Fire Walk with Me— is "very much important for this."
An ongoing poll shows that 1 out of every 10 Twin Peaks fans still hasn't watched the 1992 movie starring Sheryl Lee! To make sure fans are fully prepared for the journey back to Twin Peaks, Showtime has announced it will be adding it to their streaming service on Wednesday, March 1, 2017. The prequel will debut on air on the same day at 8 PM ET/PT.
Have you ever watched "Twin Peaks: Fire Walk with Me," the 1992 prequel movie by David Lynch? #JustAsking

— Welcome to Twin Peaks (@ThatsOurWaldo) February 1, 2017
David Lynch, of course, did not elaborate on why the movie may be required viewing before May 21st. Based on the cast list, we know that of the characters it introduced, at least Carl Rodd (Harry Dean Stanton) and Jumping Man (Carlton Lee Russell) are set to return. The enigmatic Phillip Jeffries, originally played by the late David Bowie, is also rumored to make an appearance in the new series. If so, it'll be interesting to see how they can top this.
Aside from new characters, the movie contributes intriguing elements to the mythology, like the jade ring —referenced multiple times in Mark Frost's "The Secret History of Twin Peaks"— and the painting that "would look good on your wall." And maybe we'll learn more about Gordon Cole's Blue Rose cases 16 weeks from now?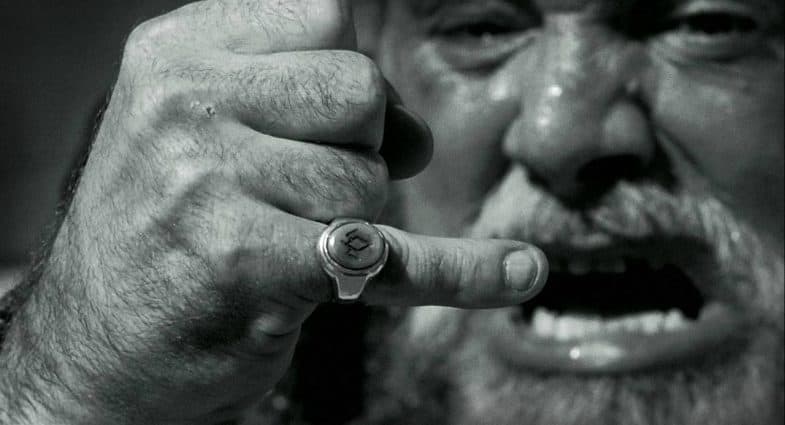 Twin Peaks: Fire Walk with Me is part of Twin Peaks: The Entire Mystery. You can also find it on Amazon Video and iTunes.
In other news, the film's phenomenal soundtrack by Angelo Badalamenti was rereleased on vinyl last week. Grab a copy before it's sold out.
Twin Peaks: Fire Walk with Me (1992) Official Trailer
https://www.youtube.com/watch?v=snP5dMsFoAY