UPDATE: An official Twin Peaks VR game is getting a release in 2019!
The Red Room has been a beloved setting in fanmade Twin Peaks VR experiments for years, and that's exactly how this project started too. But Orly Rodriguez is quickly expanding his virtual reality experience called The Archivist: VR to include other iconic locations, such as the RR Diner, the Roadhouse and the Twin Peaks Sheriff's Department. Jam with Carl at the Fat Trout Trailer Park or ask Jeffries about Judy. You can even hang out with the woodsmen above the convenience store or, if you step over the bodies of Sam and Tracey on the penthouse floor, you can inspect the inside of the glass box in New York.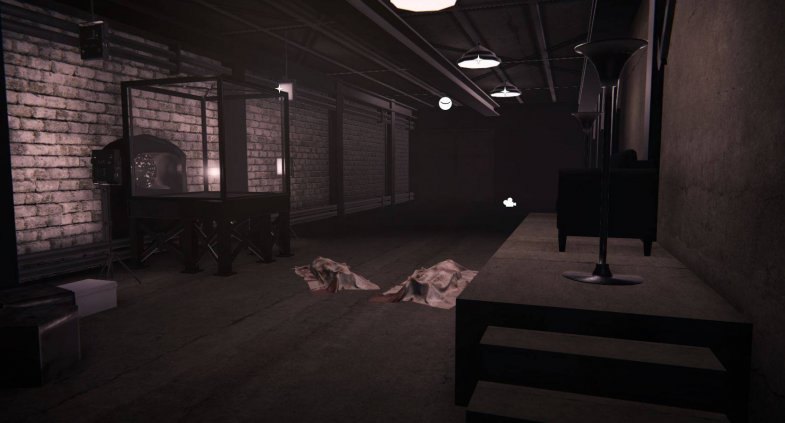 A student at the Game Art Institute, everything you see, Orly learned on the job: "This has been such a dream come true; ever since I first saw Twin Peaks over 20 years ago I had wished someone would make a video game based on the show," he writes. "A few months ago, I decided it was time for me to learn how to make video games." It's a work-in-progress, but here's a trailer demonstrating what Orly and his team at Nothing Like You Productions have built in just a few weeks.
The Archivist: VR Official Trailer
https://www.youtube.com/watch?v=dlgegkxrjCc
UPDATE: Latest Trailer (June 2018)
With 'The Archivist: VR', Nothing Like You Productions has set out to create a unique virtual reality experience that takes you beyond the curtain, into the unpredictable dreamscape of Twin Peaks. Leaving the borders of reality behind, you will enter the meticulously recreated world in virtual reality and experience an unprecedented level of immersion as you re-live some of the show's most iconic moments. With an original story line, set against the supernatural mythos of television's most mysterious town, 'The Archivist: VR' will bring you closer to the show than ever before.
Even if you don't own an Oculus or HTC Vive headset, you can already try the current version of The Archivist: VR. Just reach out to Orly via Facebook and follow his page to keep track of updates on his labor of love. You can also scroll down here for additional stills and demo videos.
UPDATE: The Public Beta is now out and available through Facebook.
What else would you add to a Twin Peaks VR experience?
Double R Diner, Twin Peaks
Ghostwood Forest, Twin Peaks
https://www.youtube.com/watch?v=0HFt34u_GCs
Twin Peaks Sheriff's Department
Purple Room & The Convenience Store
https://www.youtube.com/watch?v=YW__-JwICvU&feature=youtu.be

KPJK, New Mexico