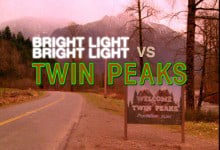 Twin Peaks-obsessed electro-pop producer Bright Light Bright Light (Rod Thomas) has made a cover of Julee Cruise's "Falling". A fan living near the filming locations in the Snoqualmie area heard the cover, went out to shoot some moody footage of the Great Northern hotel and its falls, Ronette's bridge, Mt. Si, the motel from Fire Walk With Me, the Twin Peaks High School, the Double R, among other places… and sent everything to the up-and-coming UK producer.
You can watch the result of their collaboration in the song's official video. This modern interpretation of the Twin Peaks theme by Bright Light Bright Light is also available as a free mp3 download over here. Share your opinion about the cover version and the video in the comments below.
http://vimeo.com/18461076
Find out more about Bright Light Bright Light on the artist's homepage.