How did you celebrate David Lynch and Mark Frost's mind-boggling Twin Peaks announcement last week?
Chances are you did a Leland Shuffle like nobody was watching, you went for a slice of cherry pie, or you poured yourself a damn fine cup of David Lynch or Kyle MacLachlan coffee. Whatever it was, Brooklynite Scott McGibney probably took his excitement several steps further…
Let's go back to the weekend right after David Lynch and Mark Frost unexpectedly teased us with the "gum" quote from the show. In response to that first pair of "Twin Tweets" —and sorry, by the way, for coining this corny term that even made it to Rolling Stone— Welcome to Twin Peaks shared Lil Tuffy's That Gum You Like Is Going To Come Back In Style print on Facebook.
Scott loved the illustration —"I like puns, what can I say"— and just a few hours after the Twin Peaks creators officially confirmed our suspicions on October 6th, he took the design to Gnostic Tattoo in Brooklyn.
Here's the result: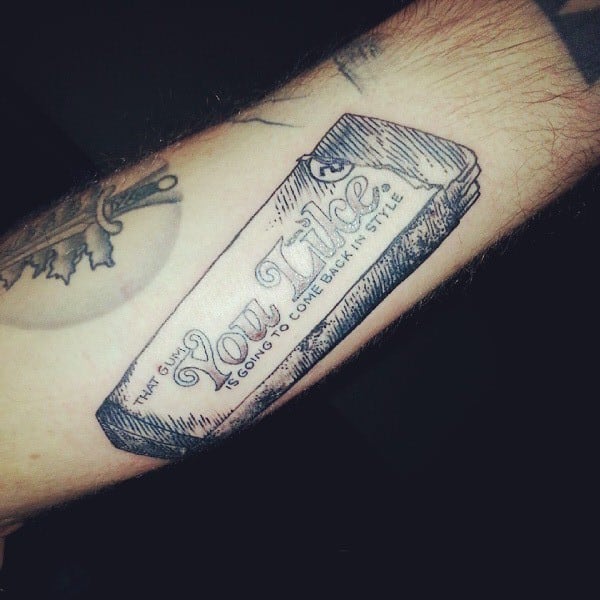 As you can see, it's not even Scott's first Twin Peaks tattoo, but he just had to mark the extraordinary occasion of the show coming back in 2016 with a new one. And a very relevant one at that.
If you're ever in Brooklyn's Bushwick area, check out Wyckoff Starr and Café Ghia. The coffee shop and bar are owned by Scott and evidently full of subtle Twin Peaks references. Or not so subtle, like this chalkboard sign that was out in front of W* last week. Classic Scott!
UPDATE: Just learned that Scott gave away free hot coffee to Wyckoff Starr's customers the entire day in celebration of the news.

If you like this tattoo story, check out the report of the opening night of David Lynch's art exhibition in NYC as well.